Hello there, sweet friends.  This month's Farmhouse Friday is especially exciting because it's being hosted by none other than Country Living!  You'll find a link to everyone's tour at the bottom of this post and you can click HERE to see it on Country Living's website.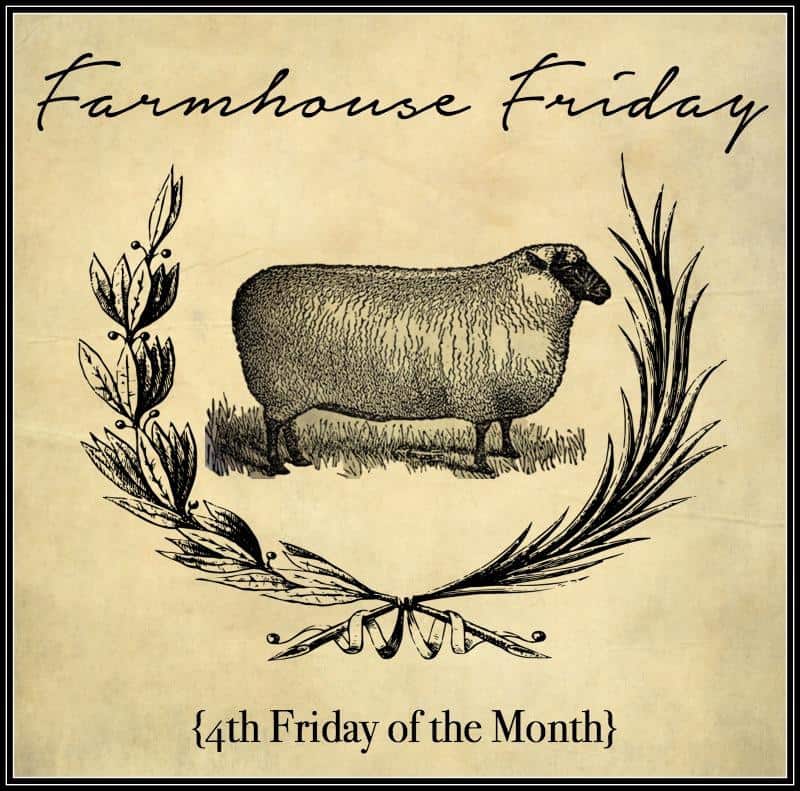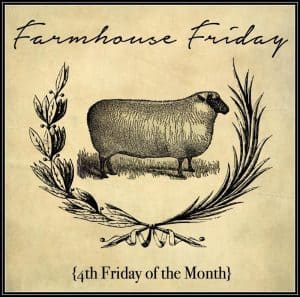 Come on in!  Sit back with your favorite beverage because we're going to cover a lot of territory today.  Let's start in my family room since that's the first room that you enter upon coming through our foyer.
Decorating doesn't have to be complicated and I love to keep it easy. That's why with most everything I do, I create a background where all I have to do is switch a few things out for different seasons and holidays.
Such is the case in my family room, starting with my rustic ladder.  When I first shared it with you, I had it all cozied up for winter.  But now that it's spring, I put away the heavy throws and added a pretty blue one along with a grapevine wreath and some dried hydrangeas in a hanging basket.  Instant spring!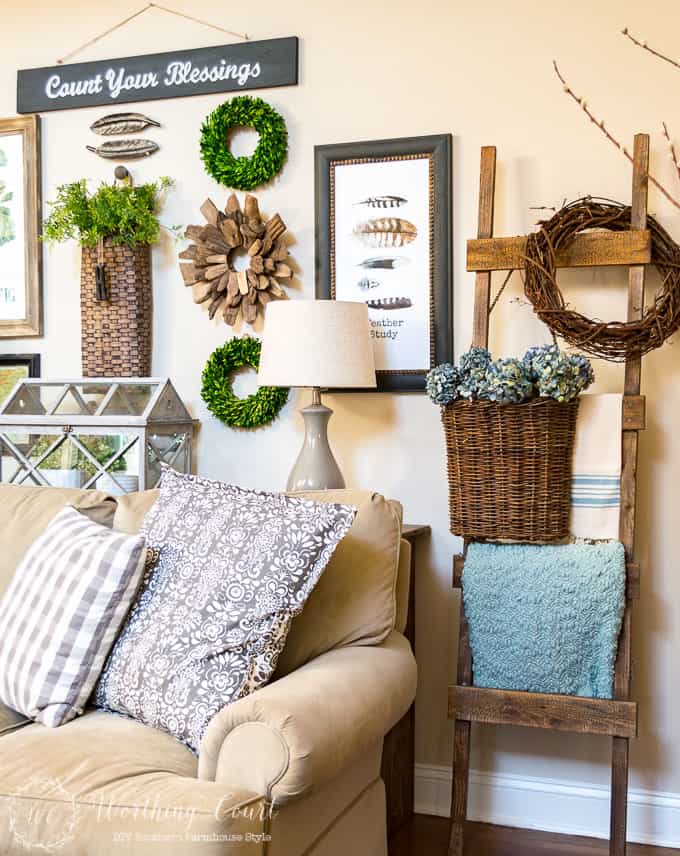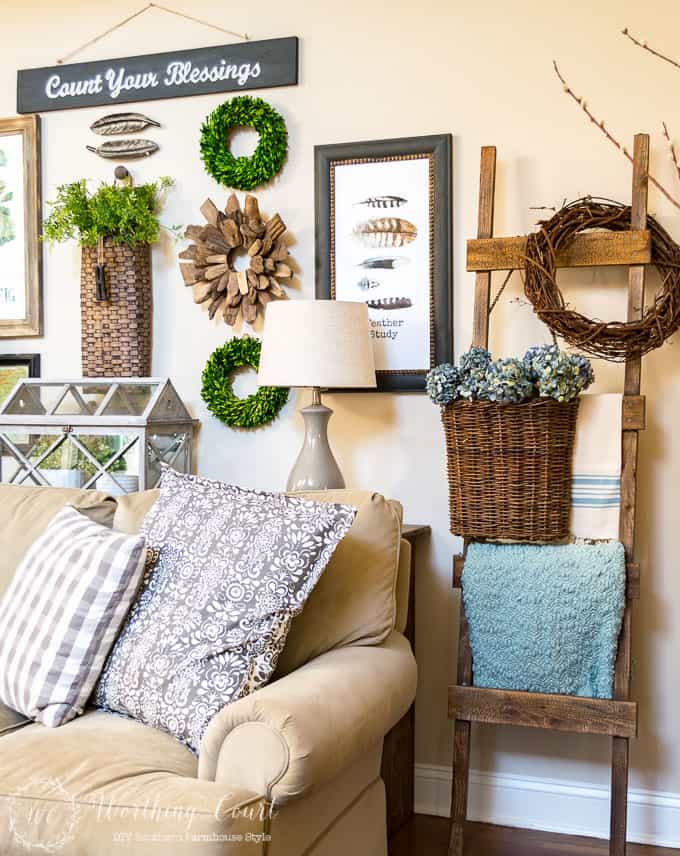 BTW – you can make one of these ladders yourself.  It's super easy and super affordable.  I made mine for less than $20, not including paint and stain.  Click HERE to get the tutorial.
I lightened up the sofa with a few pillows from a recent shopping trip to Ikea.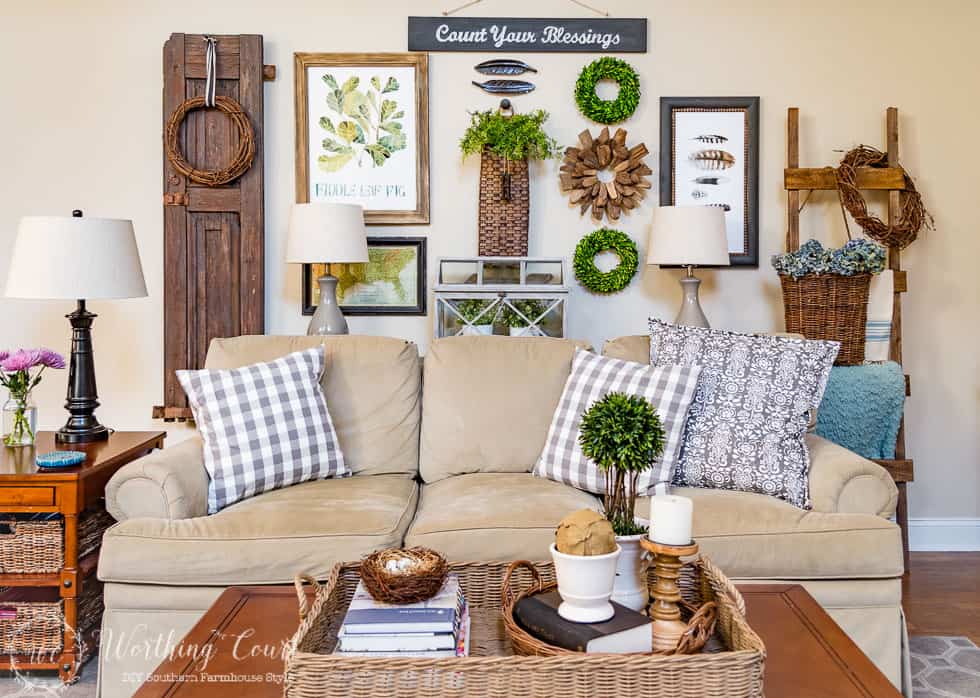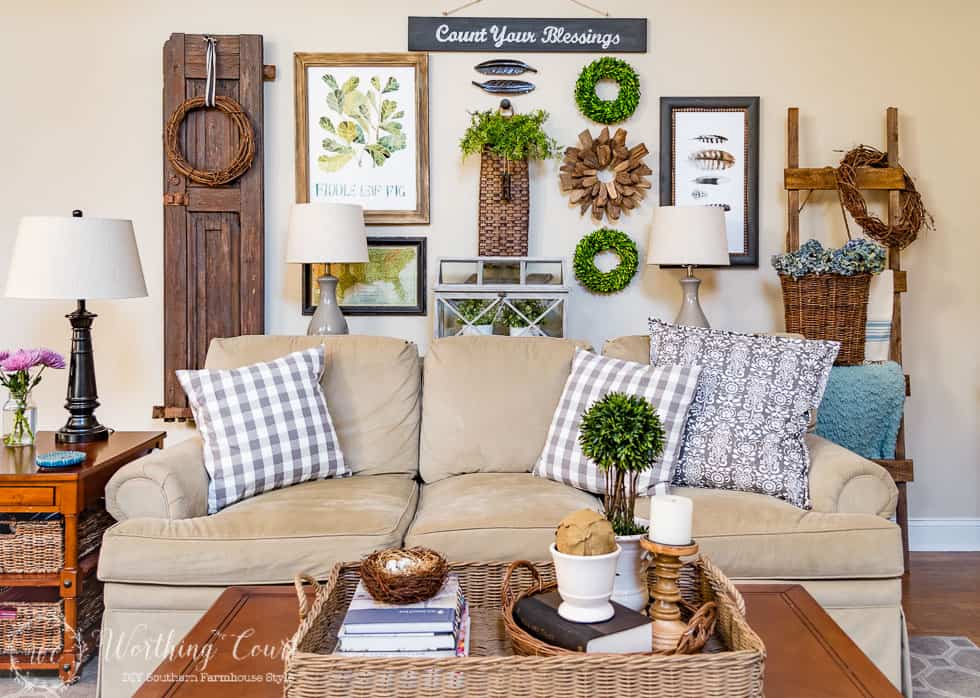 I didn't make any changes to the gallery wall, but I did replace the doughbowl, that I was displaying on my sofa table, with a terrarium filled with a couple of pots of faux greenery.  See my little shadow, Zoey, cuddled up there in the corner of the couch?  She's so black that I rarely capture her eyes in a photo.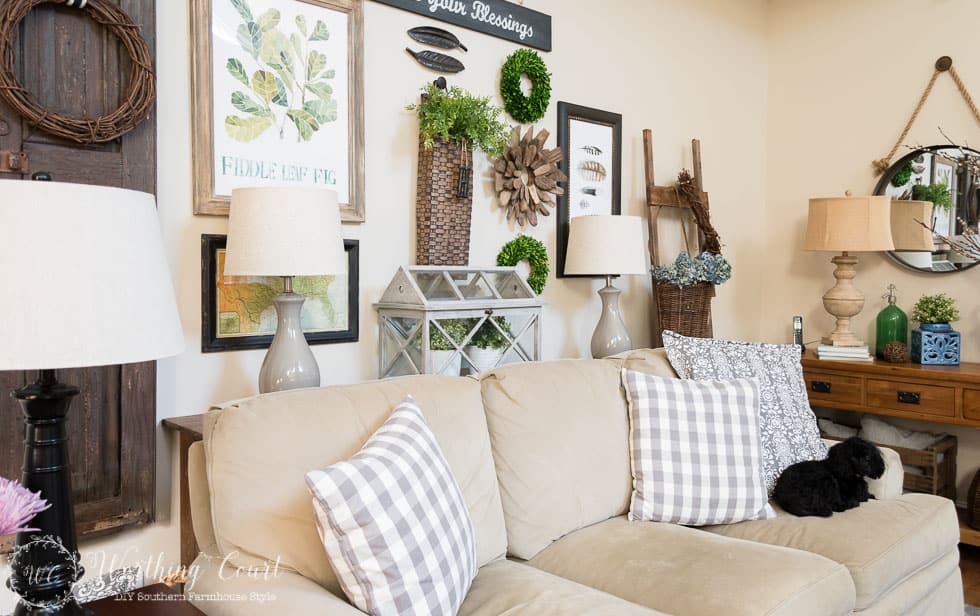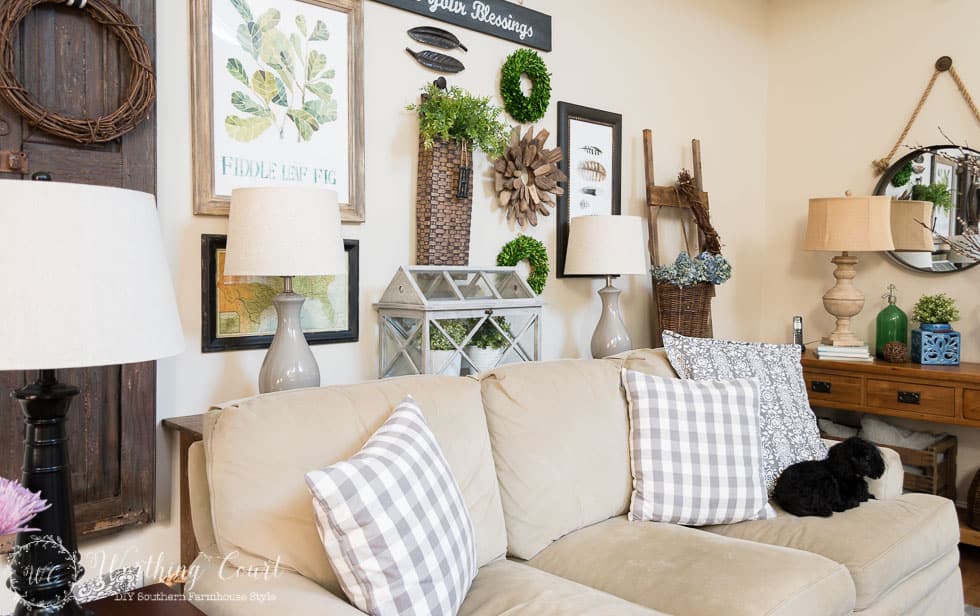 You can build a sofa table like mine too.  Another easy project!  Click HERE for the tutorial.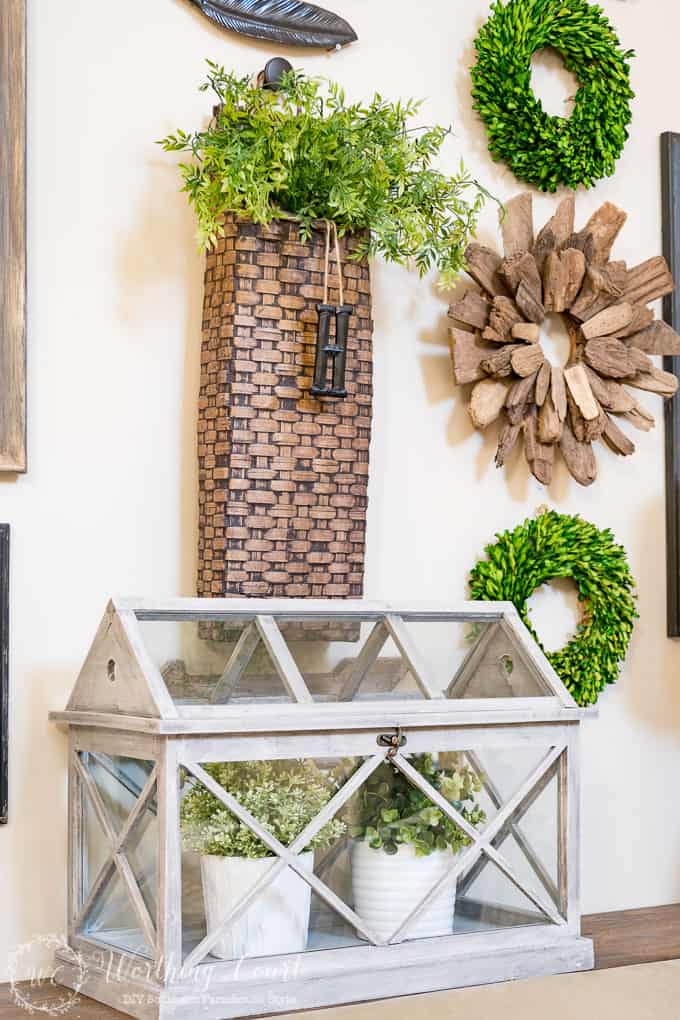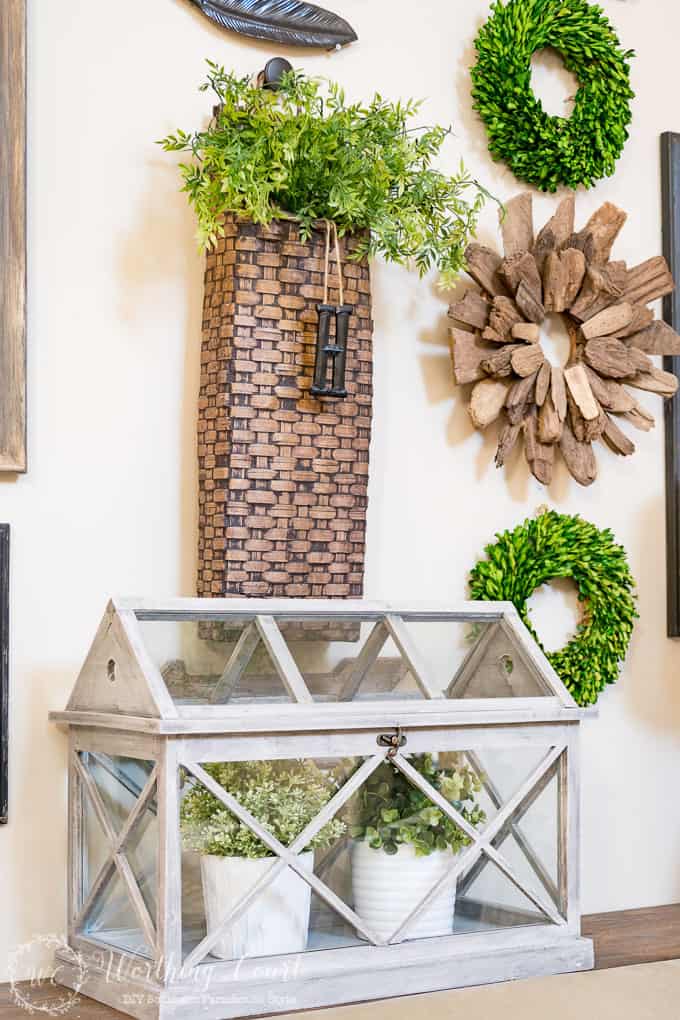 The console table got some spring action with a jug filled with pussy willow branches and few colorful spring accessories.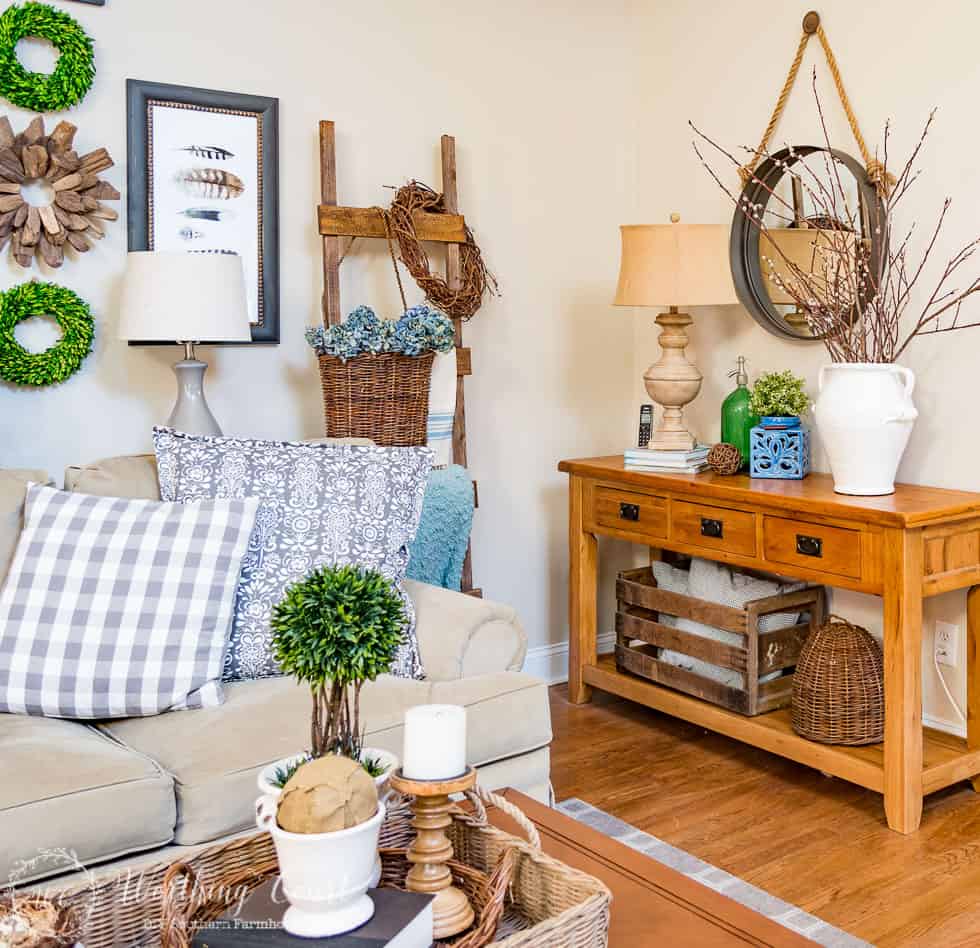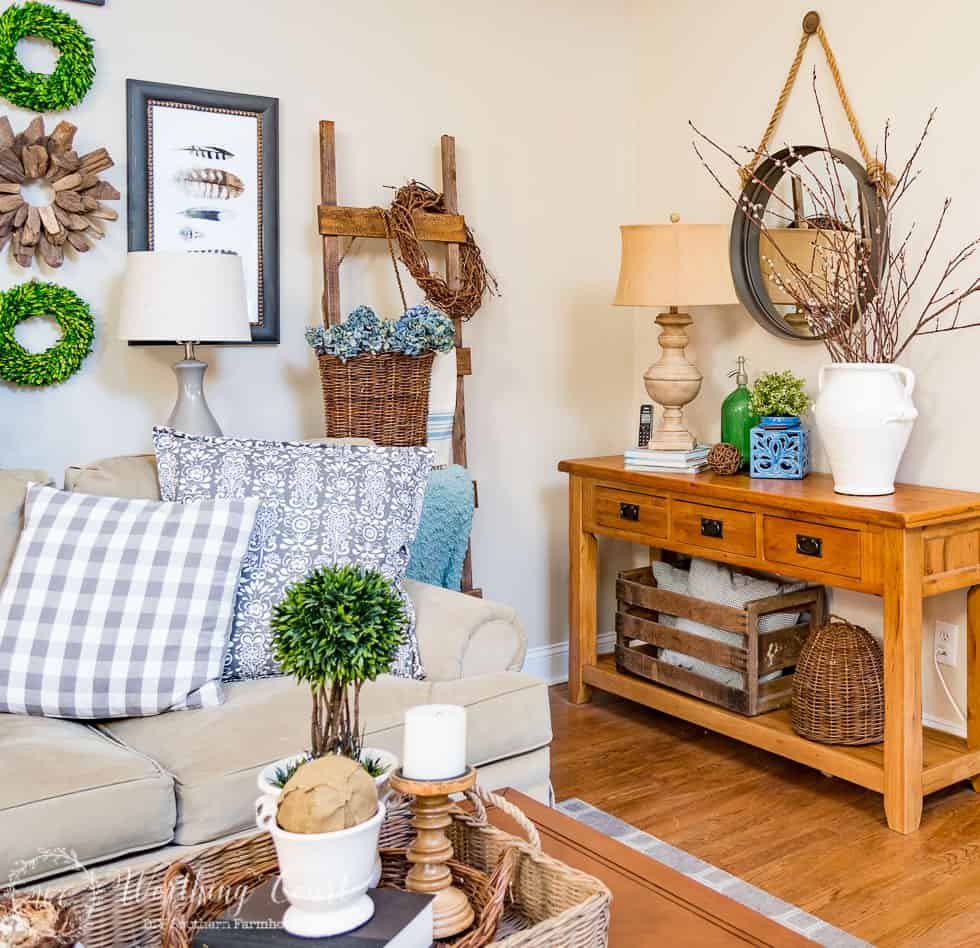 I love seeing the reflection of the gallery wall in the mirror.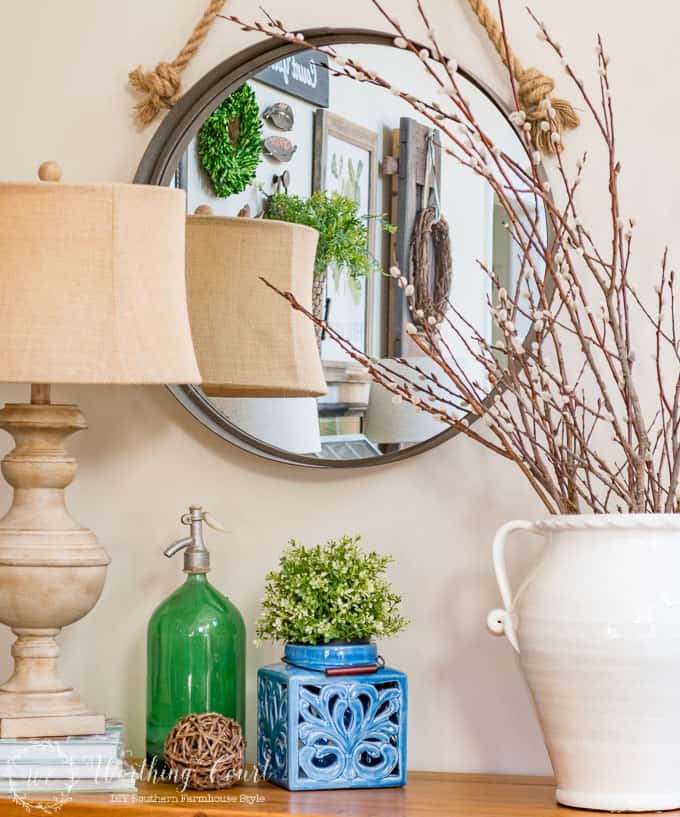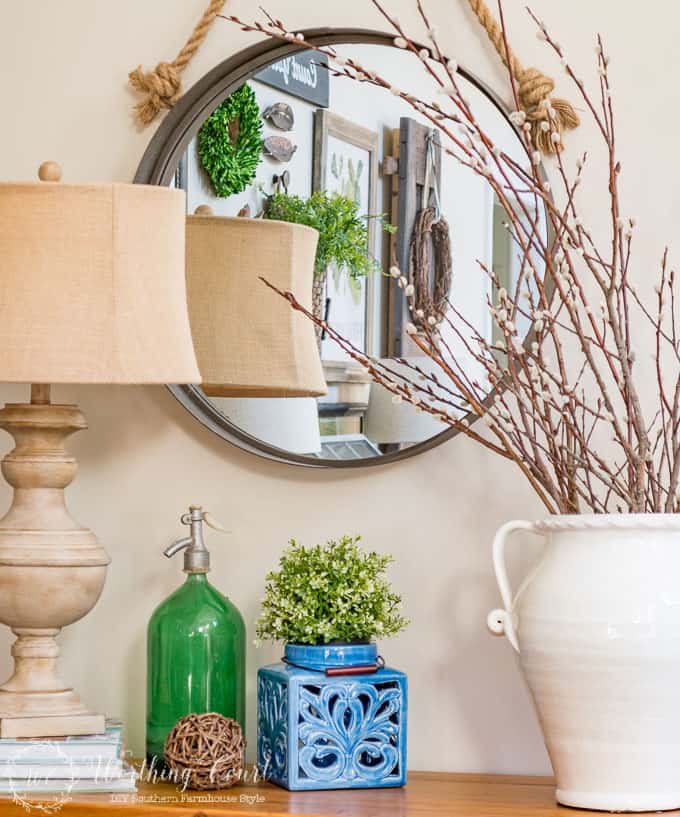 I know that I already shared my spring fireplace mantel and hearth with you, but I made a couple of small changes to it, so I wanted to share it again.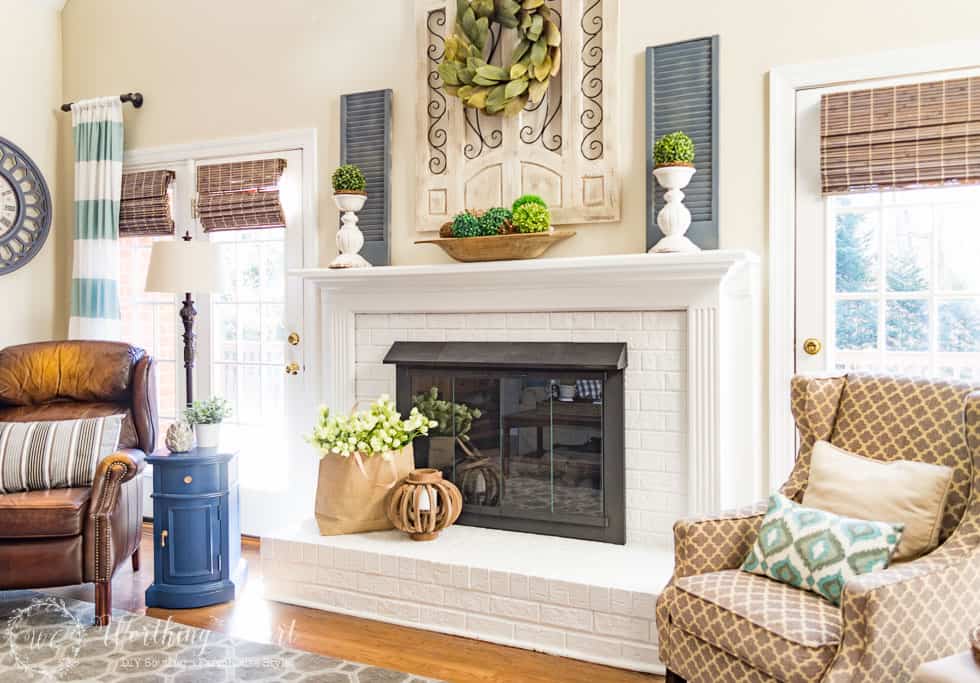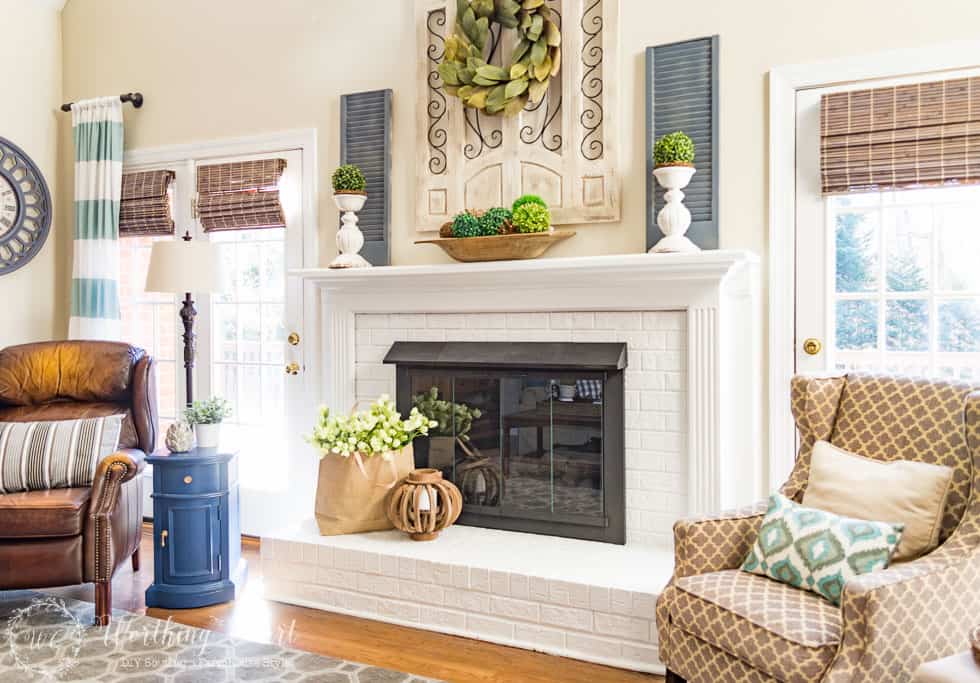 Can you spot the difference?  I removed the basket from the hearth and placed the tulips in an oversized burlap tote.  It's fun to think outside of the box when it comes to containers.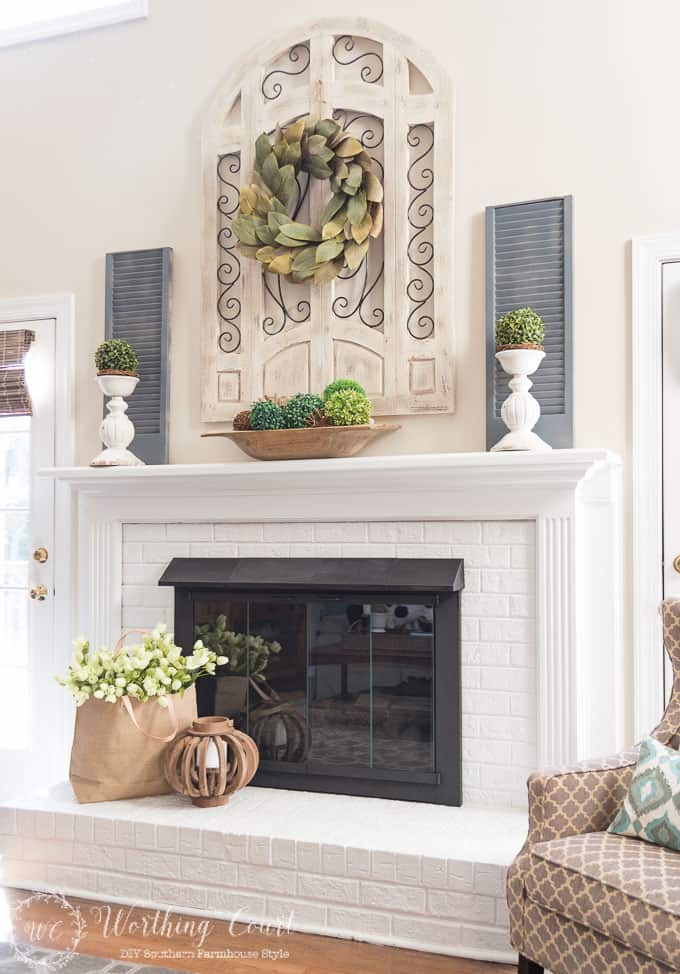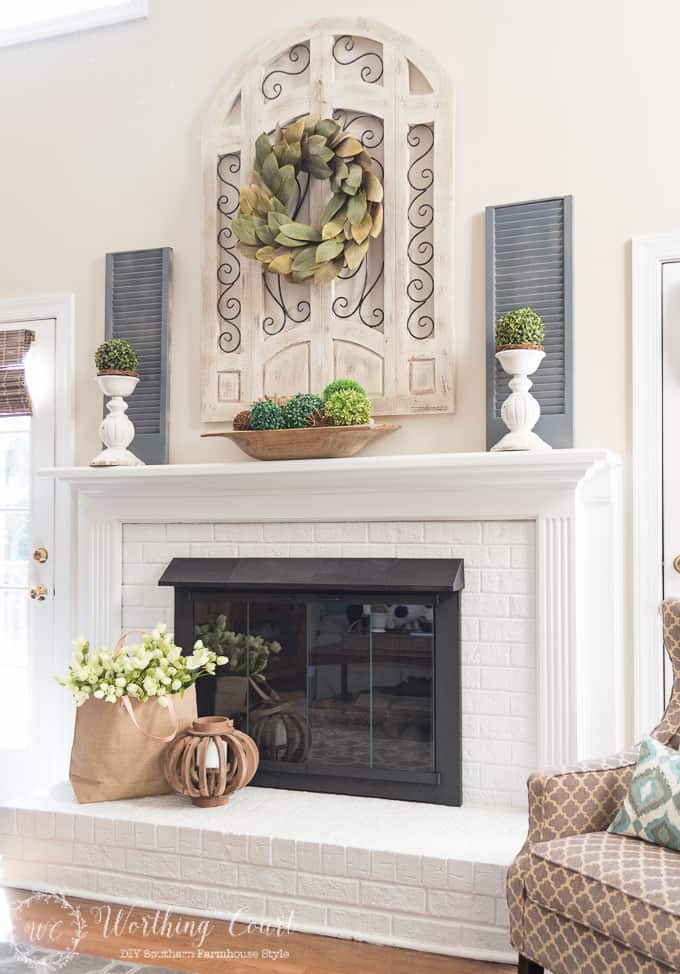 Now, let's move on into the kitchen and breakfast area, which is one large room.  I shared my spring breakfast area with you for last month's Farmhouse Friday.  I still love it just the way that it is, so I didn't make any changes there.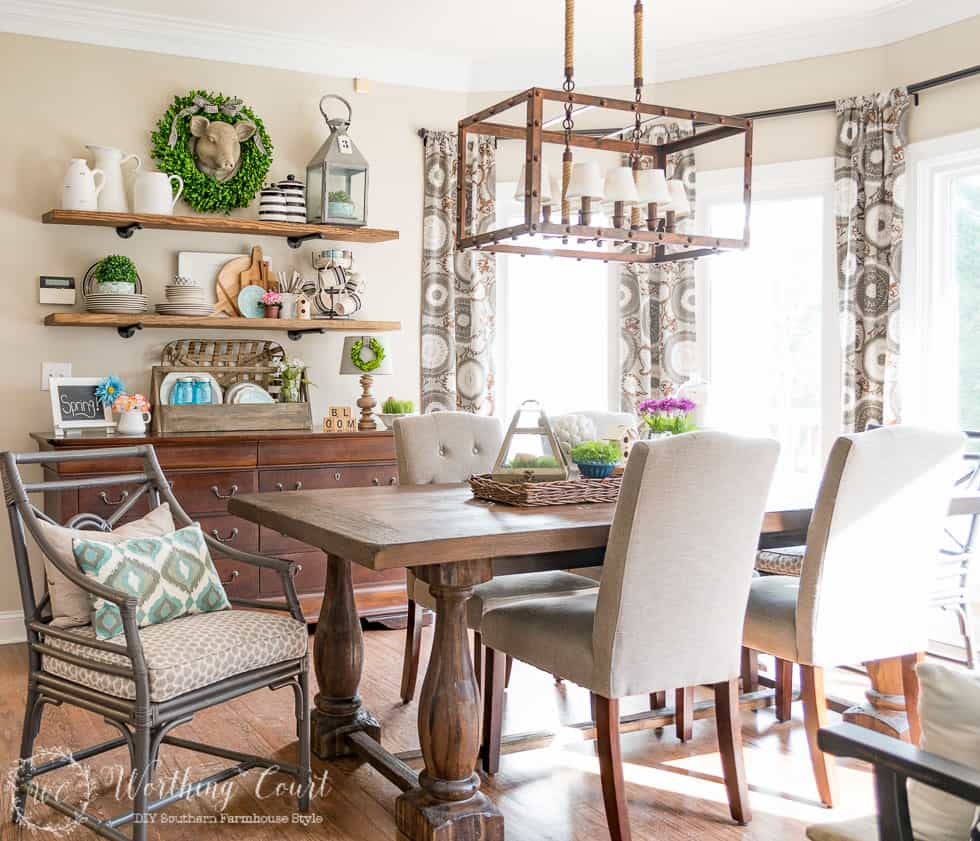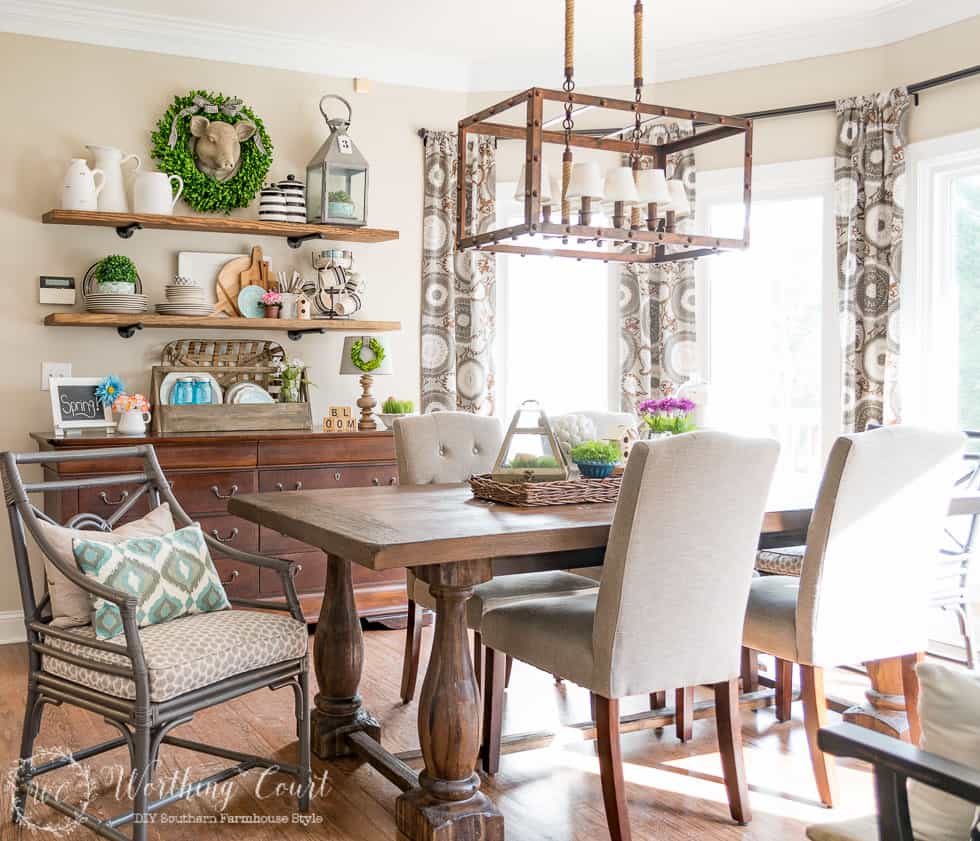 Click HERE to see the rest of the breakfast area.  And click HERE to see the before and after and the tutorials for the diy projects that I did during the makeover of this space.
All I needed to do to springify my kitchen was to visit the floral section of my local grocery store, where the Fuji Mums called my name.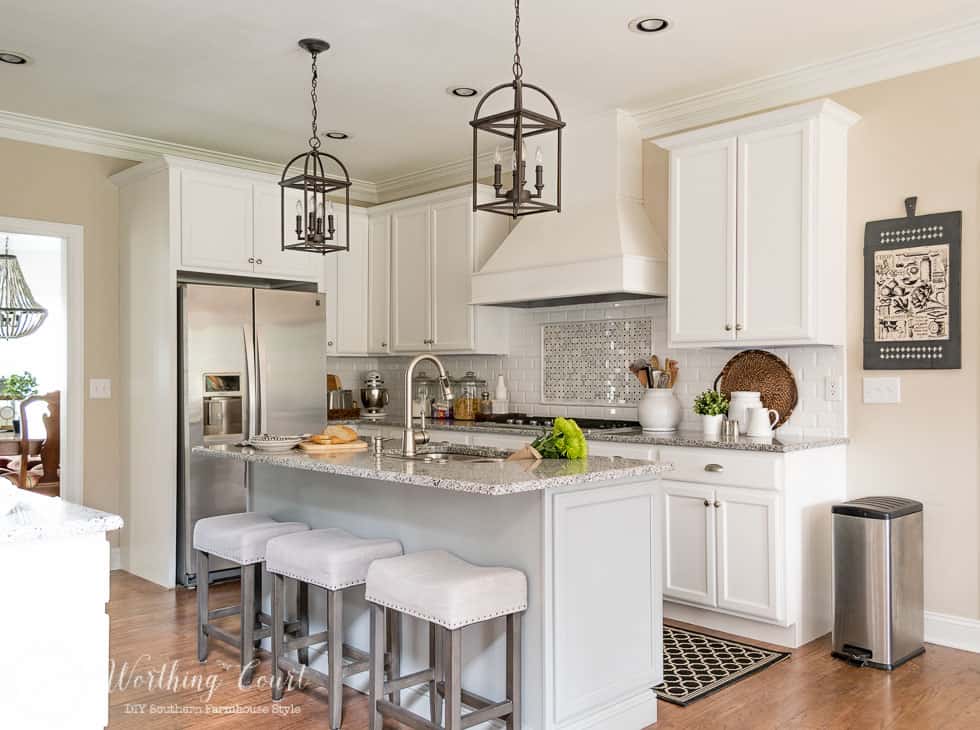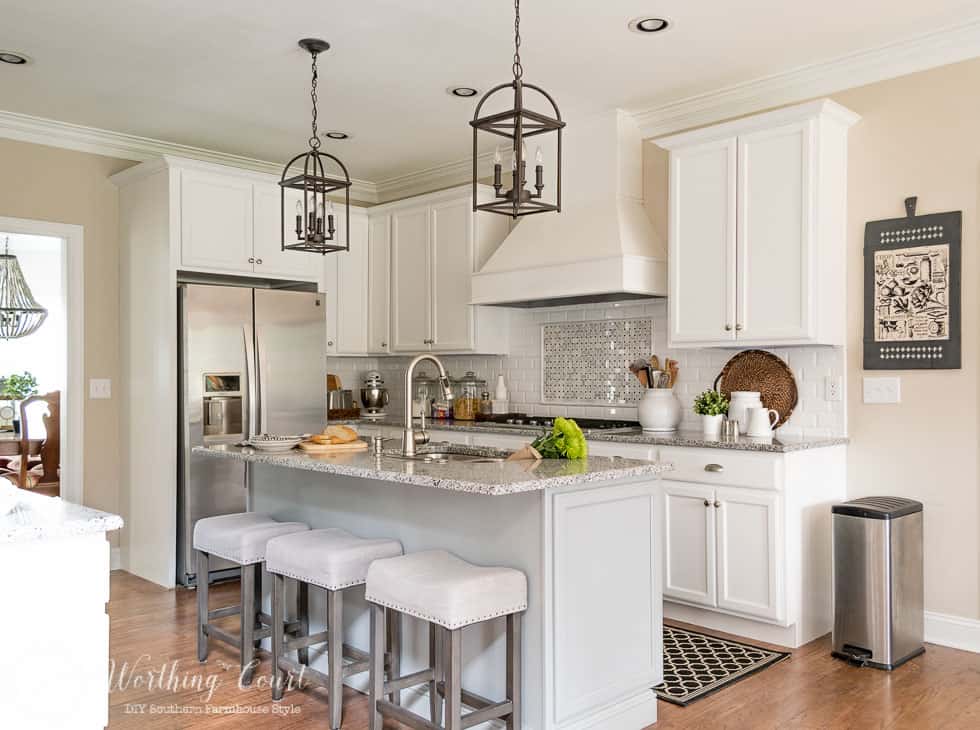 At $4 per bunch, they were such an affordable to way to decorate my kitchen for spring.  The Fuji Mums are long lasting and come in a wide variety of colors, but the vibrant green really spoke to me.  Green, black and white is one of my fave color combos.  So fresh!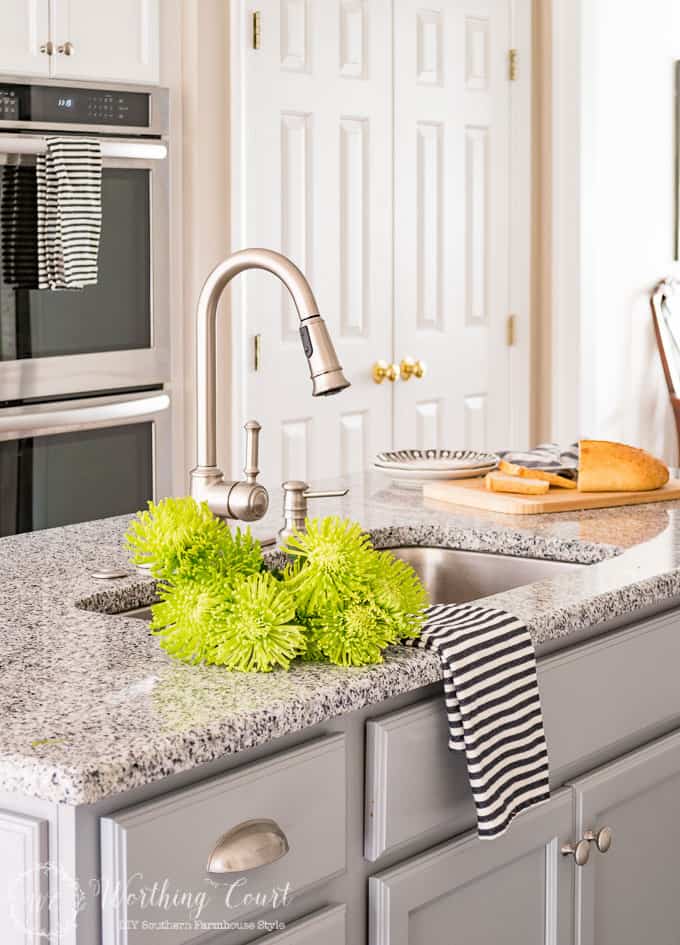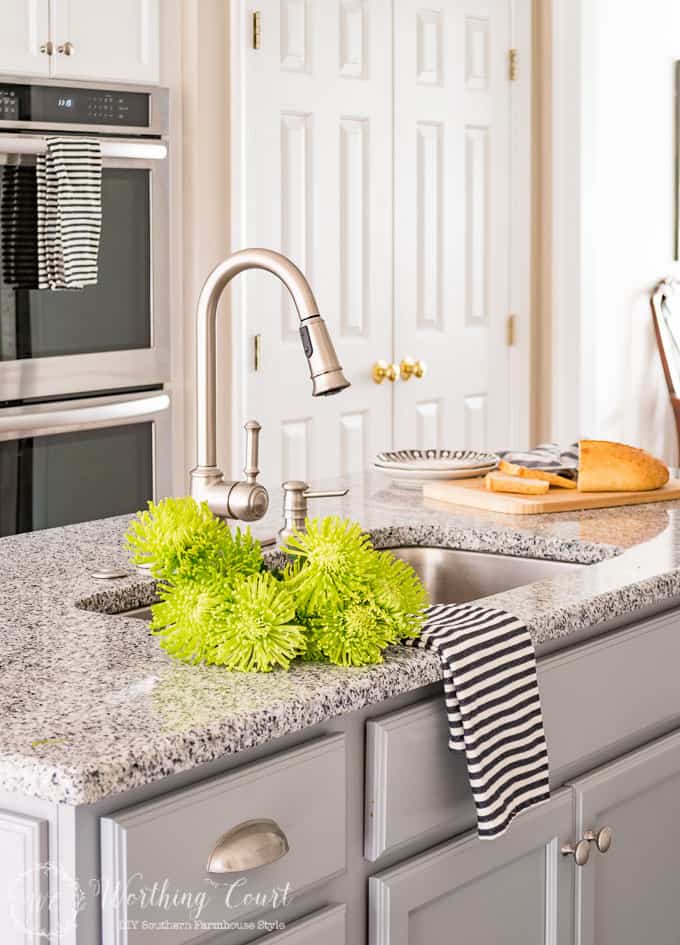 In case you're visiting for the first time, you may not know that we've completely remodeled our new-to-us twenty year old home.  The major projects have all been completed and now I'm moving through and putting on the finishing touches room by room.  Our kitchen was a complete gut job and you can see the list of all of our resources HERE.
See the coffee station on the other side of the island?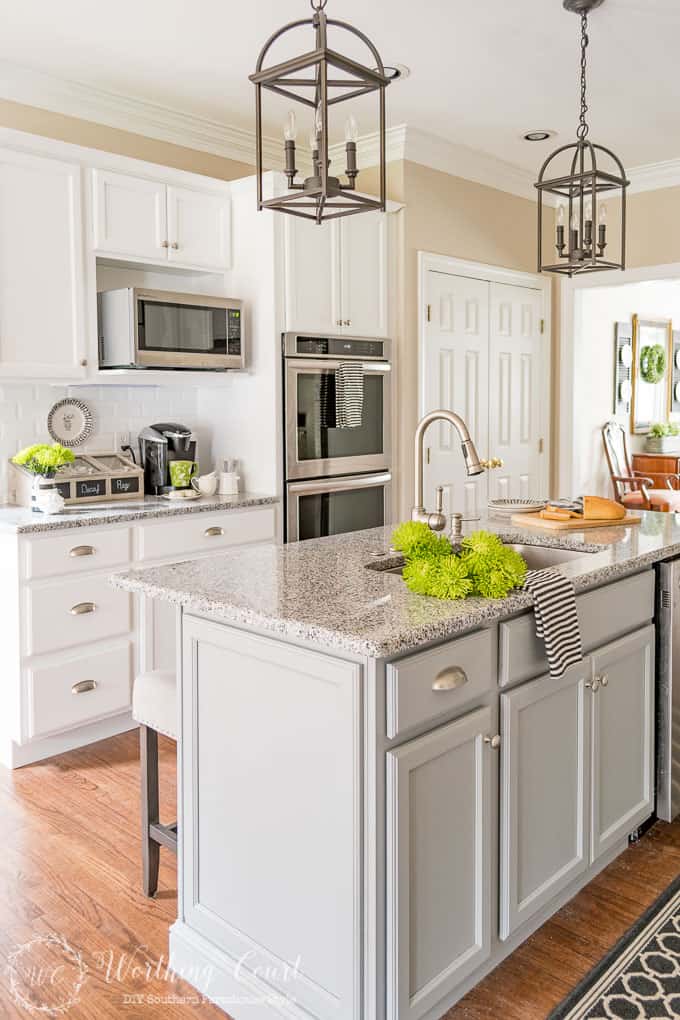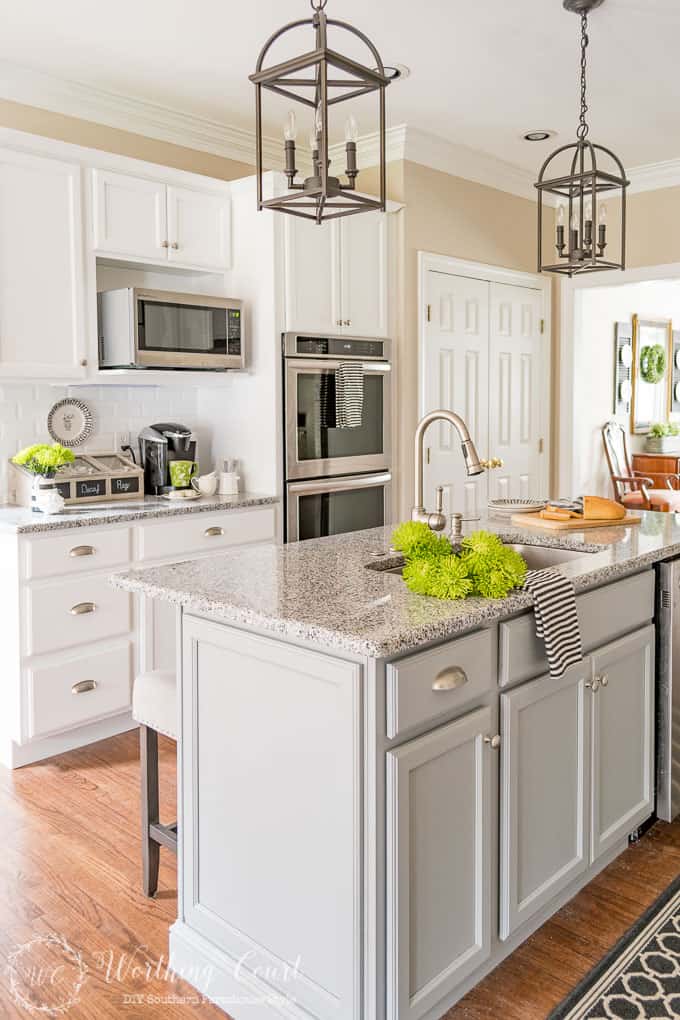 I carried the mums over there too.  Just a touch of green in a cute black and white pitcher sure does brighten this spot.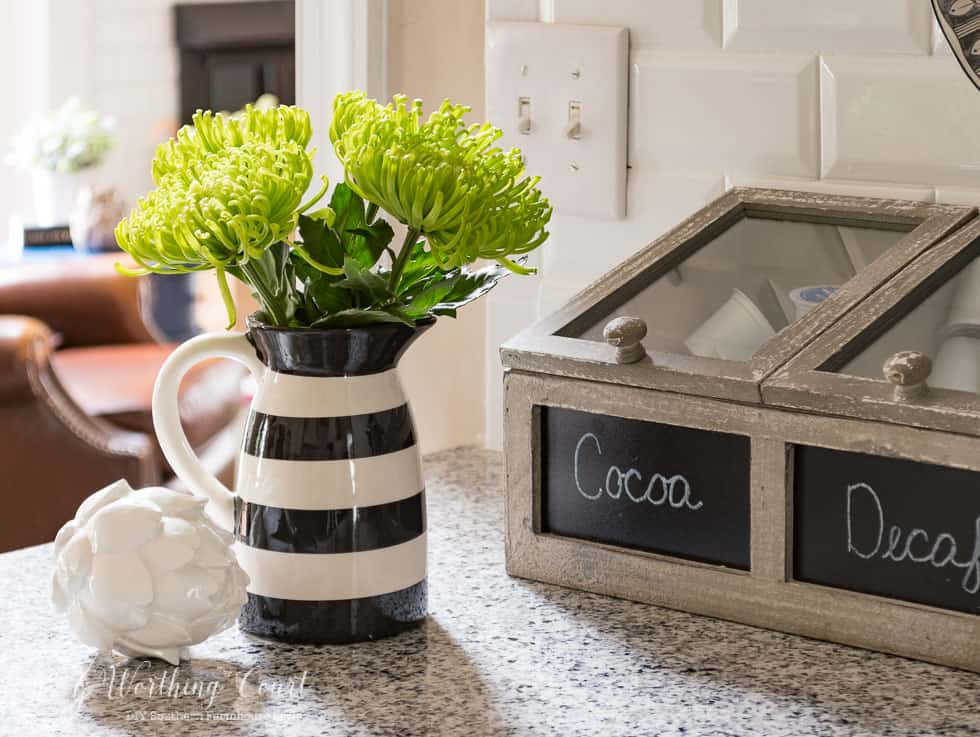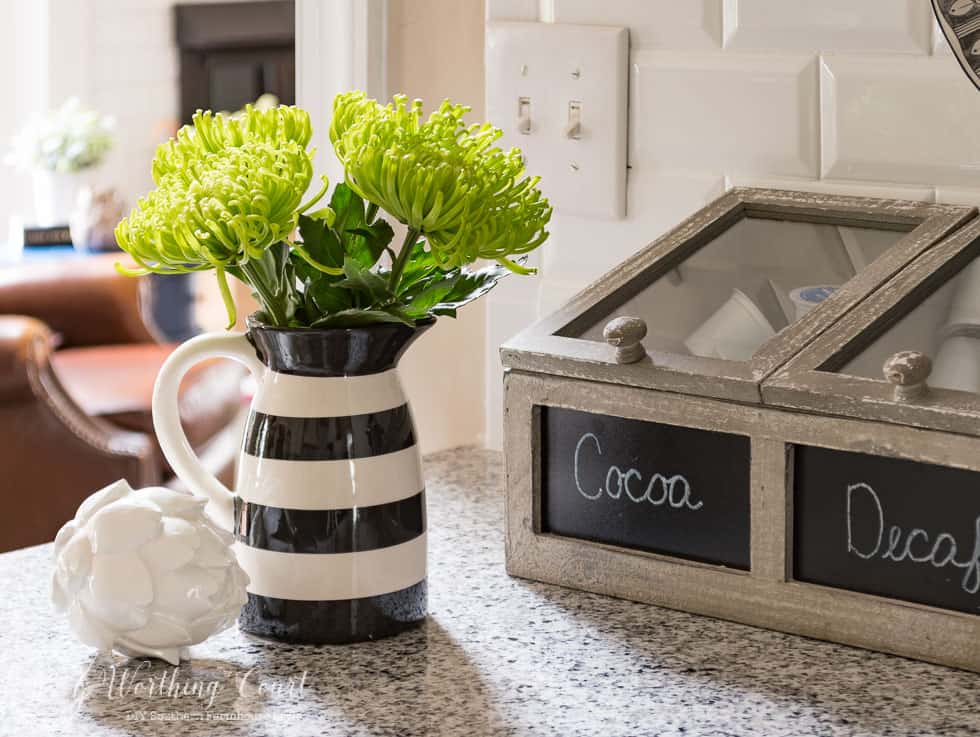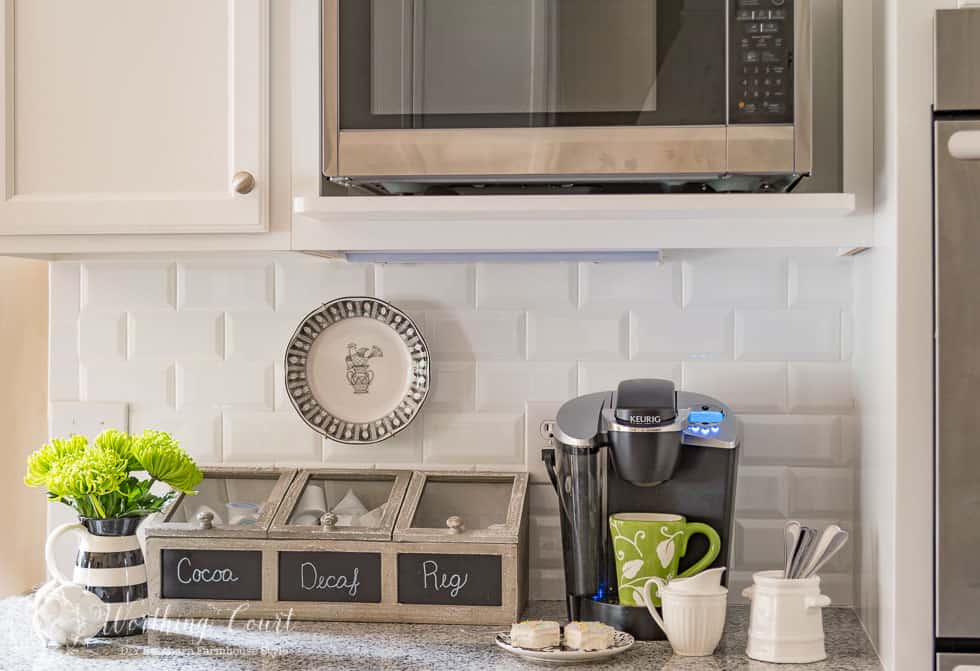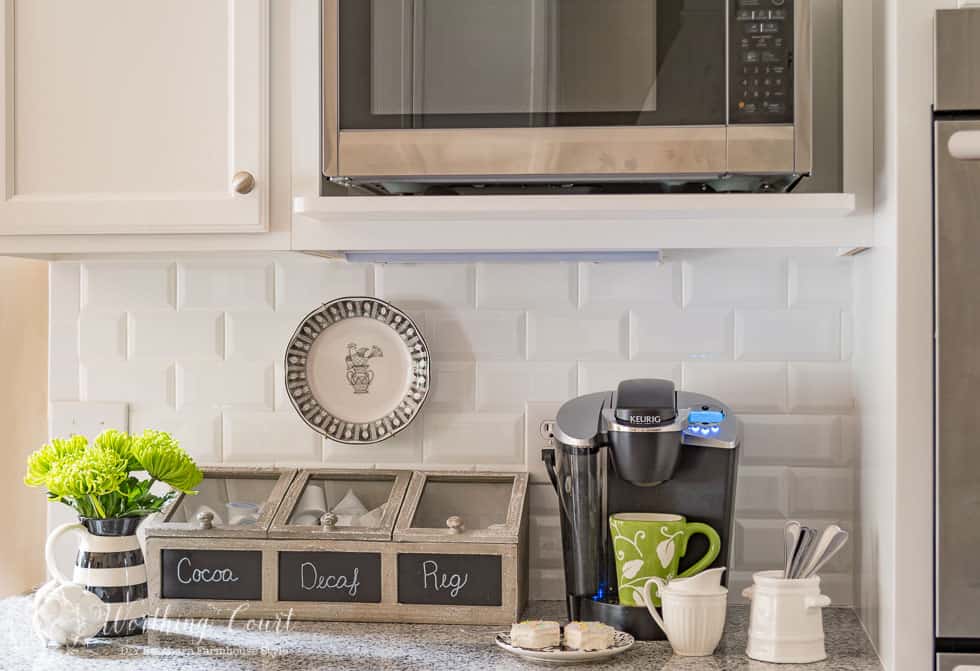 I get asked about the lidded container that I keep my Keurig pods in a ton.  I found mine at Micheal's, but I don't believe they sell them online.  You can get a similar one from Amazon HERE (affiliate link, click HERE to see my full disclosure).
I don't like things too fussy in my kitchen, so I only added a couple of vignettes to make it feel like spring.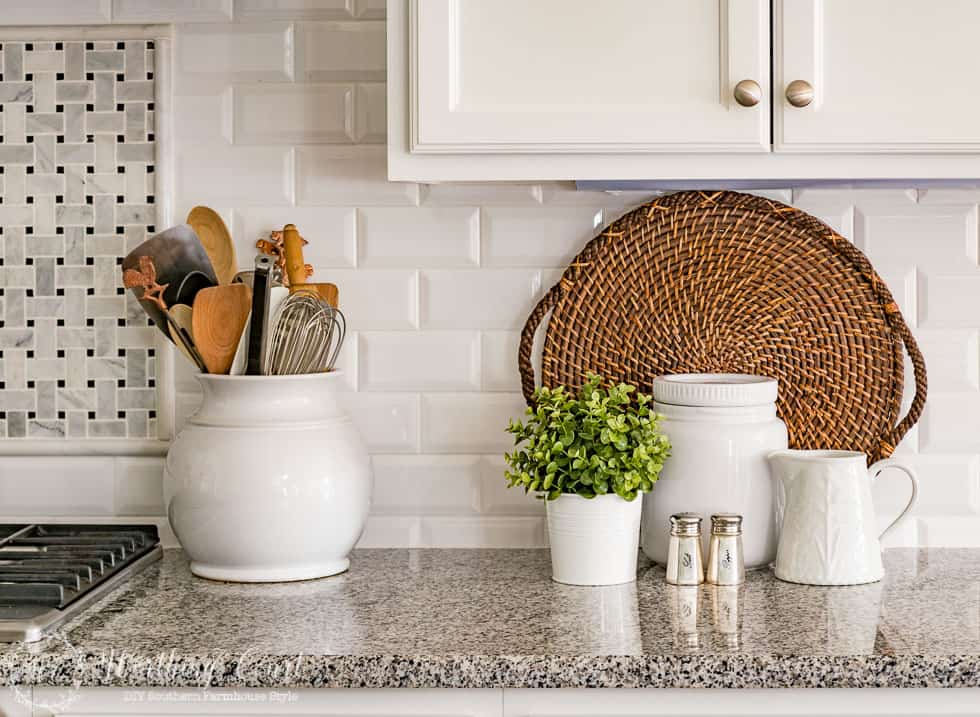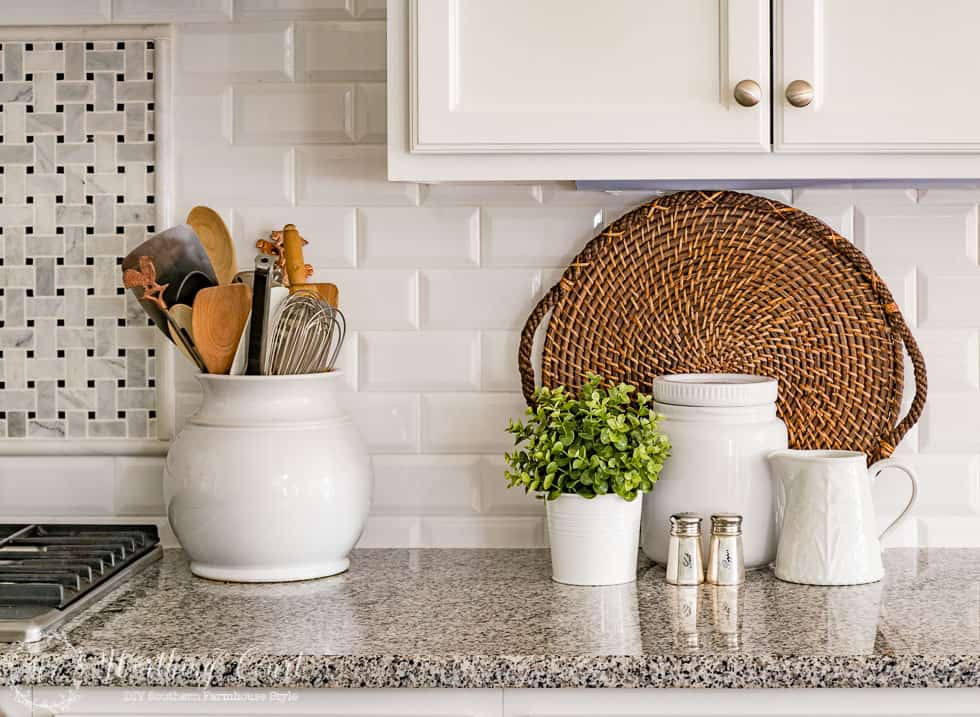 Let's finish up in the dining room.  Even though the makeover of that room isn't complete, I've been adding spring touches as I go.
We had to finish the planked wall before I could hang my vintage mantel shelf.  This was the absolute easiest planked wall ever!  If you want a planked wall installed in just one afternoon, click HERE to see how we did it.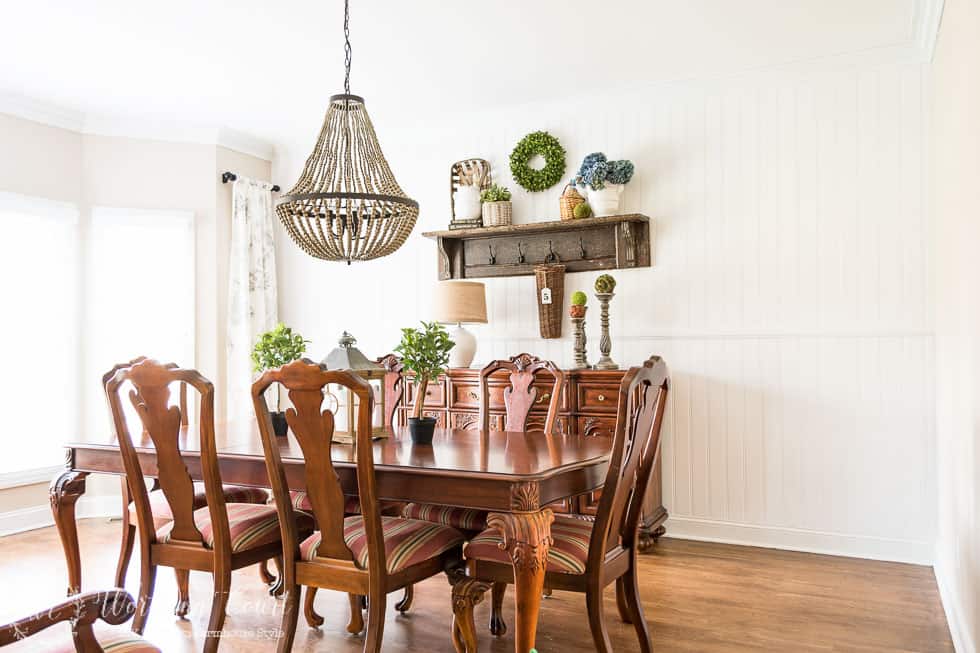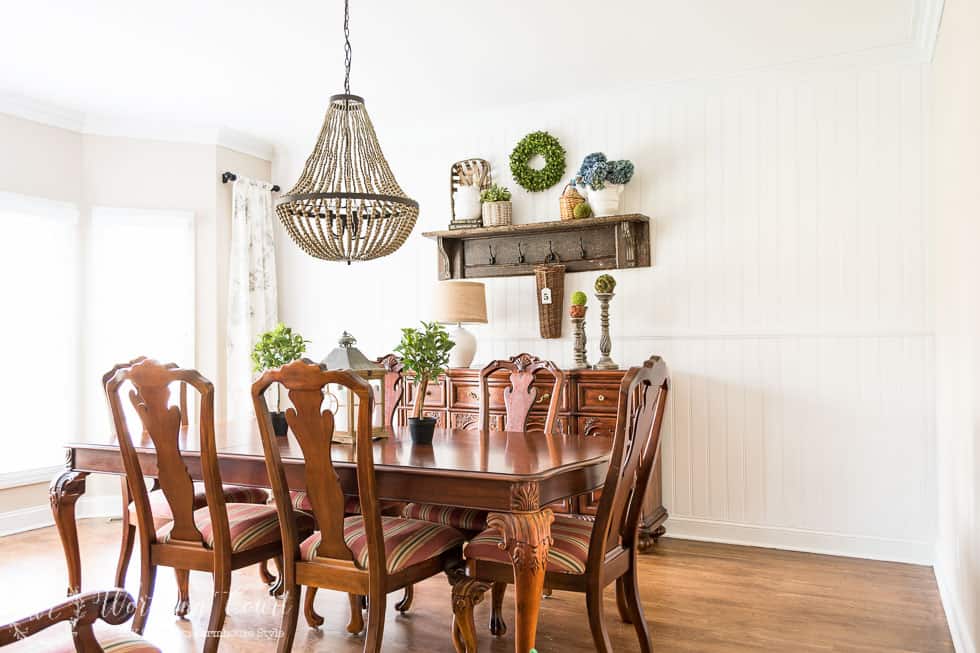 I decked the shelf out for spring with more dried hydrangeas, some faux greenery, a boxwood wreath and lots of texture.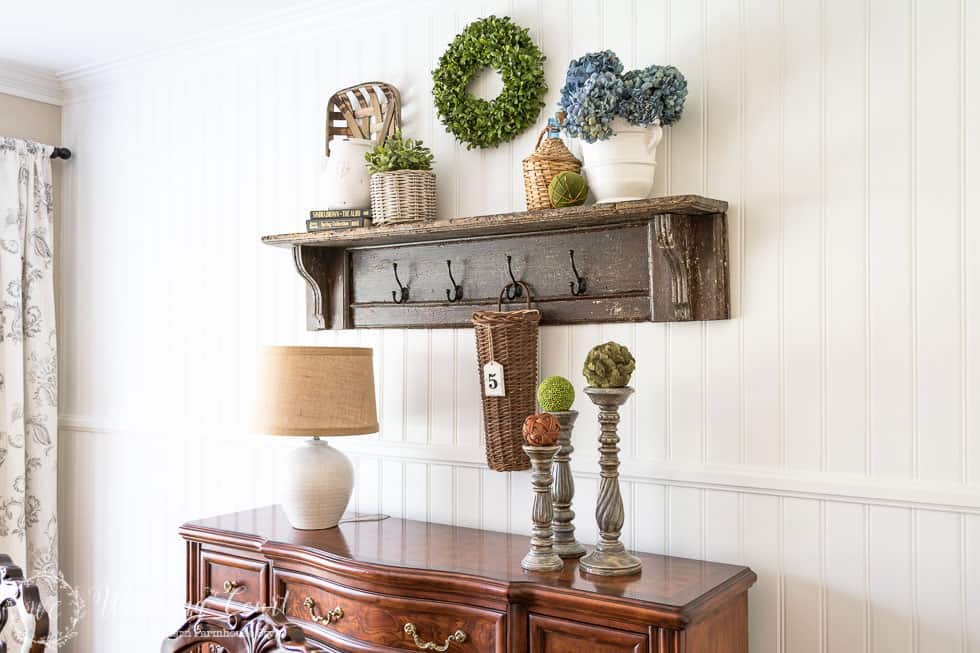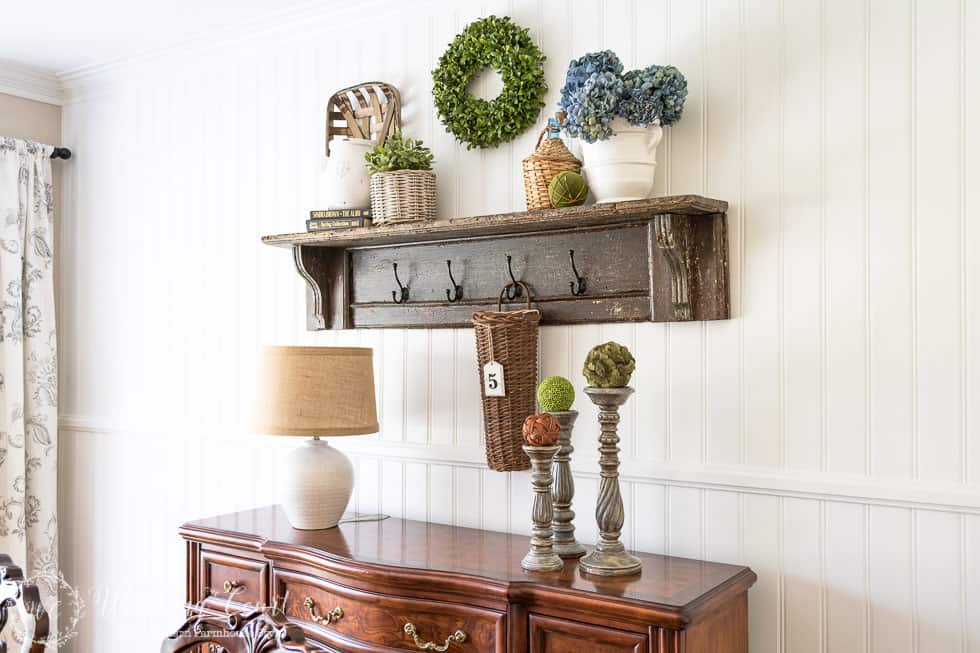 Another project that I've completed in this room is painting and hanging shutters on either side of the mirror above this little cherry chest.  I'm still trying to decide whether to paint the chest and the mirror or not, but I'm going to wait until I've recovered the seats of my chairs before I make a decision.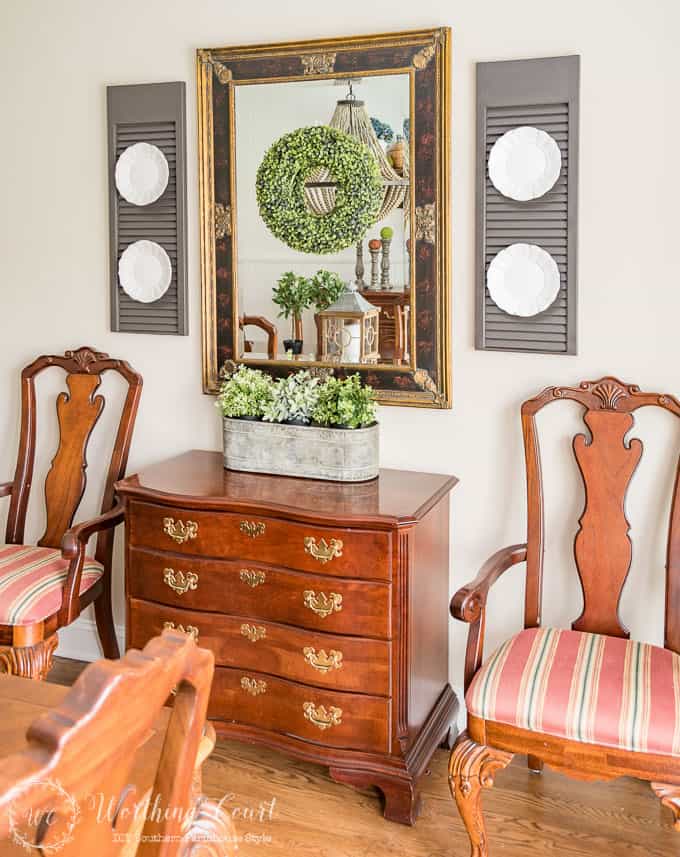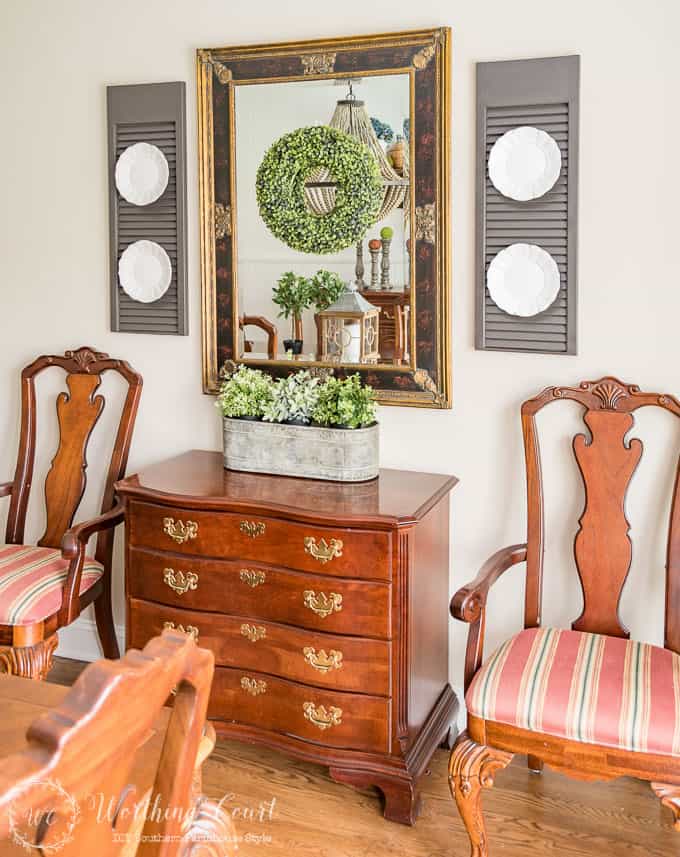 An oval container filled with more faux greenery lets you know that it's spring!  Love the reflection in this mirror too.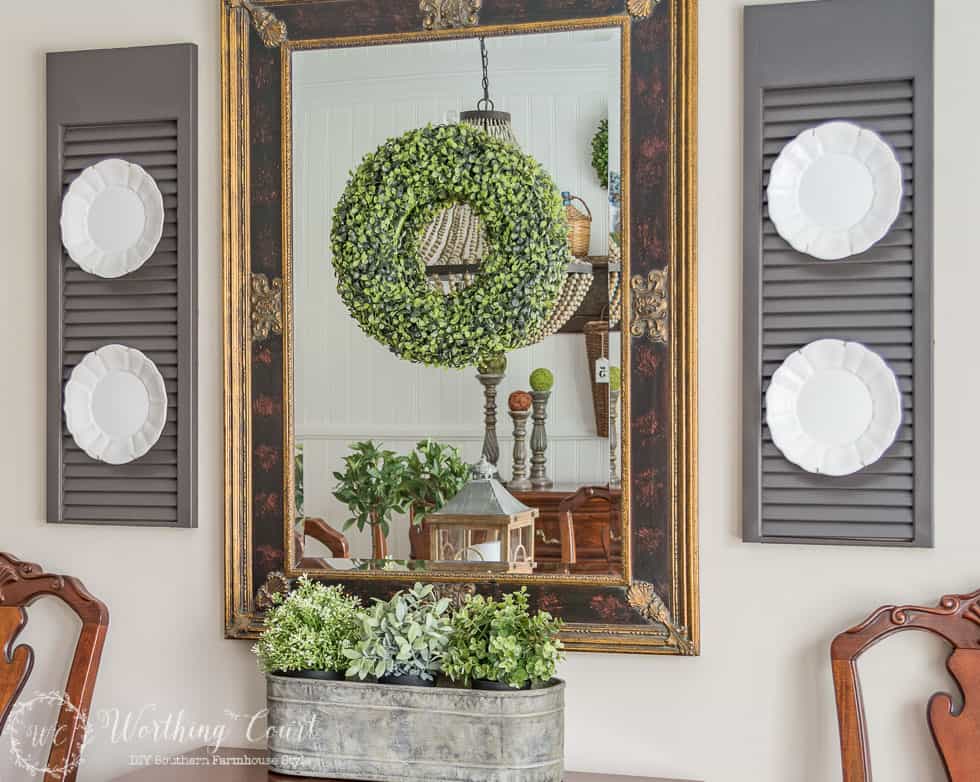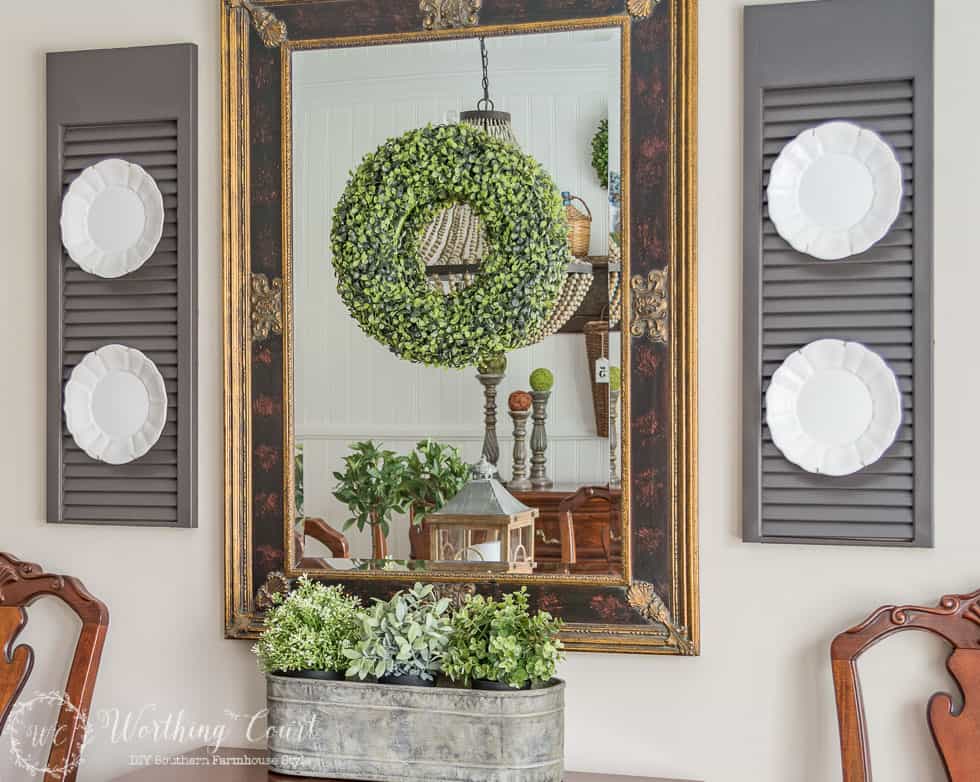 Thank you so much for coming by my house today and huge thank you to Country Living for being our host!  
Sharing at THESE great parties.
Make sure you check these other beautiful homes.