Enjoy this project for the family room of our previous home.  We're currently remodeling a new-to-us home.  Click HERE to see how I'm totally changing my decorating style!
I have two focus words for my family room makeover.  One is "de-redify" and the other is "add-blueify".
Now don't get me wrong – I adore the color red, but it has been one of the main colors in my family room for a long time and it was time for a change.
I've made many changes in this room – replacing chairs, recovering my formerly red couch, replacing and repainting tables and adding in new accessories.
One of the things on my to-do list was to replace the artwork above my mantel – the red and gold Tuscan'ish print had to go.  My family room is two stories tall so I need a large piece of artwork above my mantel and we all know how expensive those can be.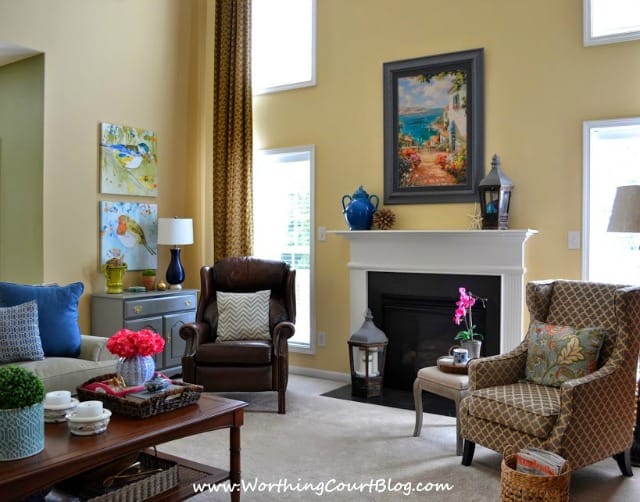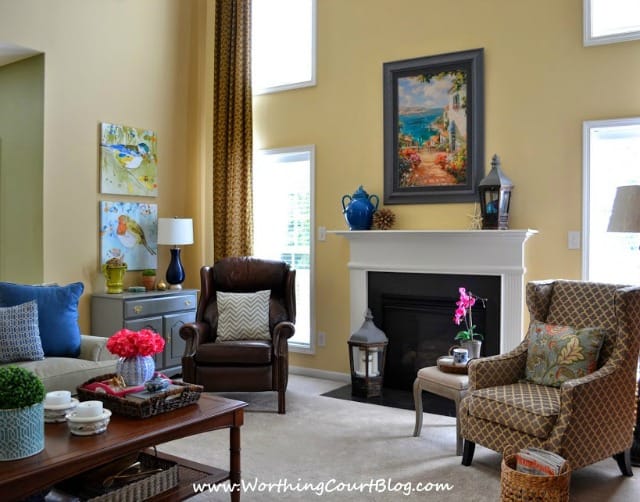 I couldn't find anything that I liked that would work with my tight budget requirement, so I decided to upcycle the piece of art that I already own and totally change the look.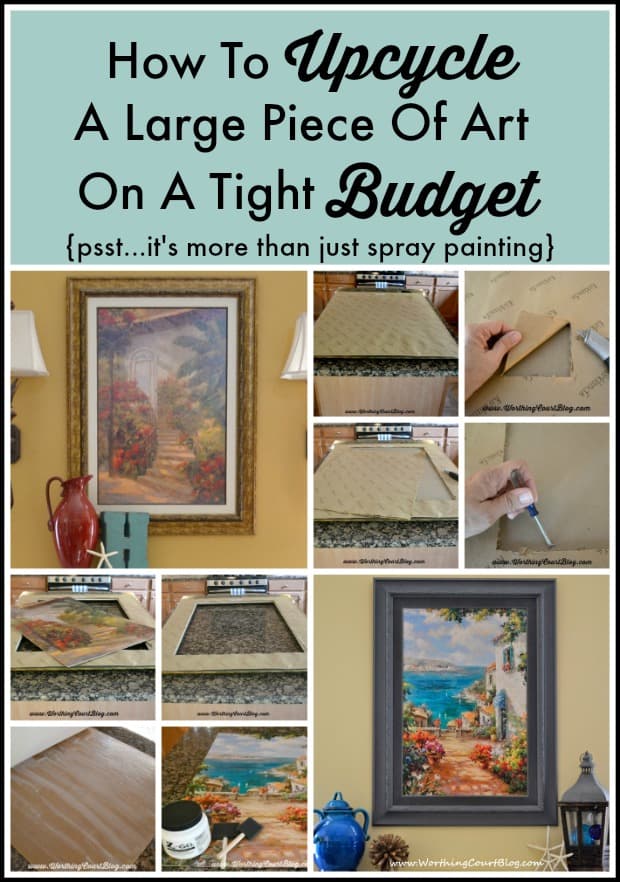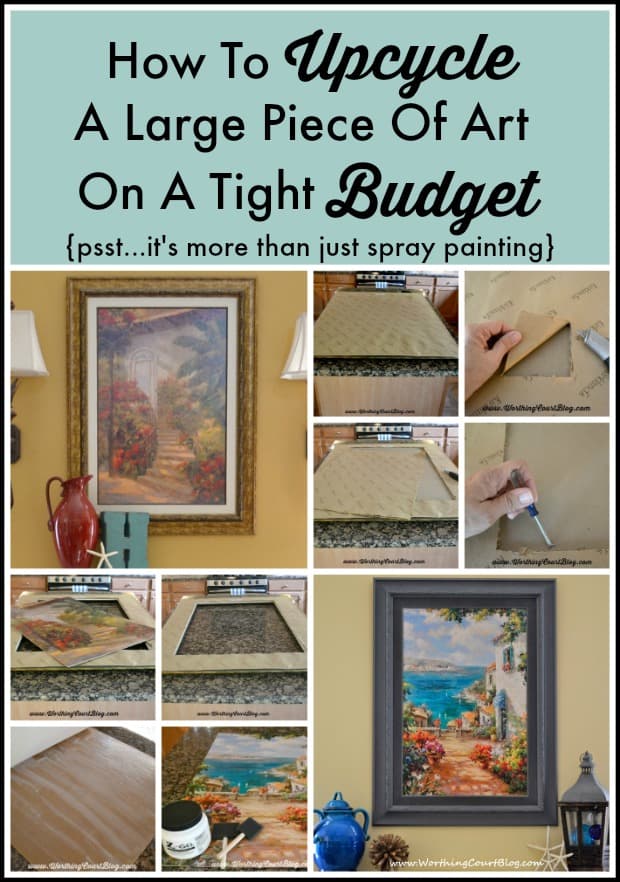 I am in love with the print that I found on Art.com.  It's pretty big and was less than $30.  I'm sorry that I can no longer find the link, but if you do a search on their site under Mediterranean, you may be able to find it.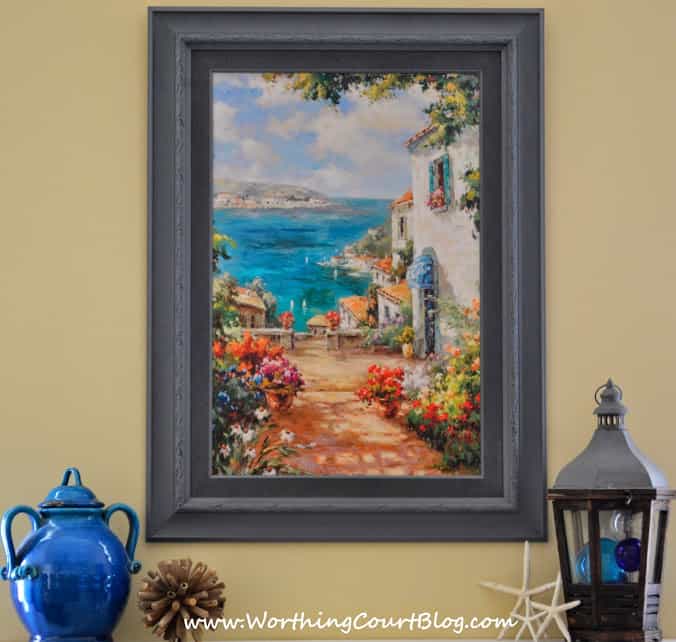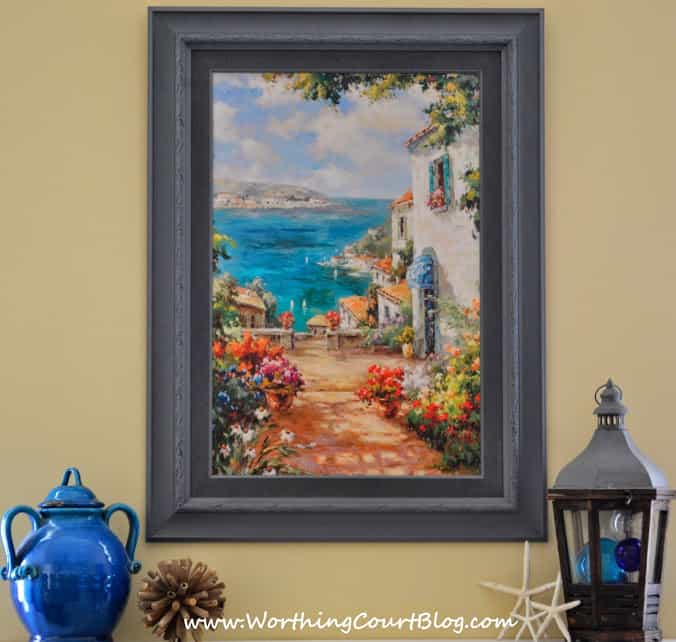 Transforming the old into the new was easy.  The graphic above is pretty self explanatory, but here's the step-by-step version of how I did it:
1.The existing picture needed to be removed first.  I did this by flipping it over to the backside and using a box knife to gently cut through the paper backing, feeling my way along the edge of the frame as I went.  After removing the backing, I bent back the staples that were holding the picture in place and lifted it out of the frame.
2. My frame had a white'ish linen insert that I didn't want to keep.  So I spray painted the whole thing – linen insert and all.  The painted linen adds a bit of texture.
3. In my case, there was no glass in this frame and I wanted to keep it that way.  The picture was mounted onto luan (a thin board).  After you've removed the picture from the frame, flip the luan to the blank backside and apply a generous coat of Mod Podge.  Make sure that there are no thick places in the Mod Podge or they will show through.  Apply the print on top of the Mod Podge, smoothing out any bubbles, ripples or wrinkles.  Allow to dry completely.
4. I wanted my print to look more like an oil painting than a print, so I chose not to use a piece of glass on the front.  Before adding the print back to the frame, I coated the front side of the print with Z-Gel.  I highly recommend it for getting a textured, oil painting like surface that dries clear and protects your piece of art.  Buy the smallest size available though, because it doesn't take much and this jar will last forever.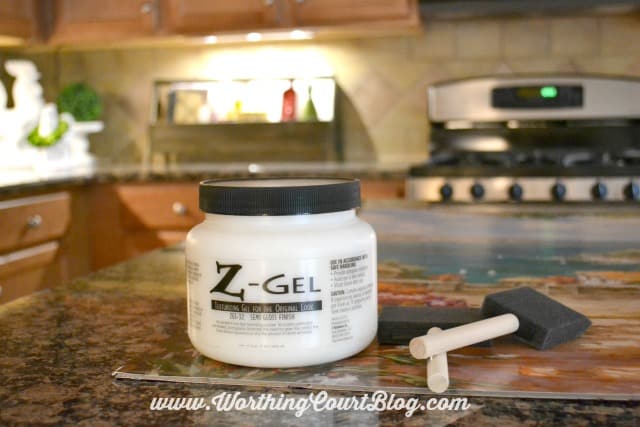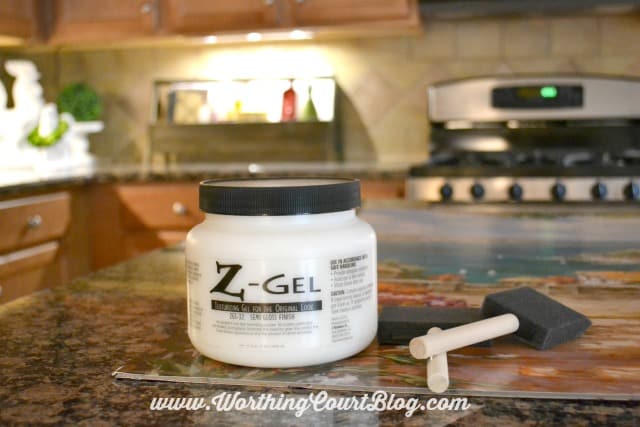 5. After allowing the Z-Gel to completely dry, I placed the picture back into the frame.  Bent the staples back down to hold it in place.  Laid the paper backing back into its original position and used packing tape to seal it up.
I'm thrilled with how it turned out and even more thrilled that I was able to wind up with a large piece of art on such a small budget.
BEFORE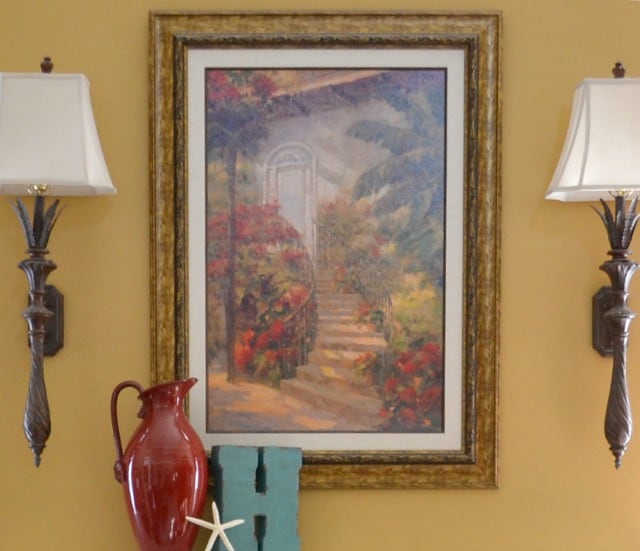 AFTER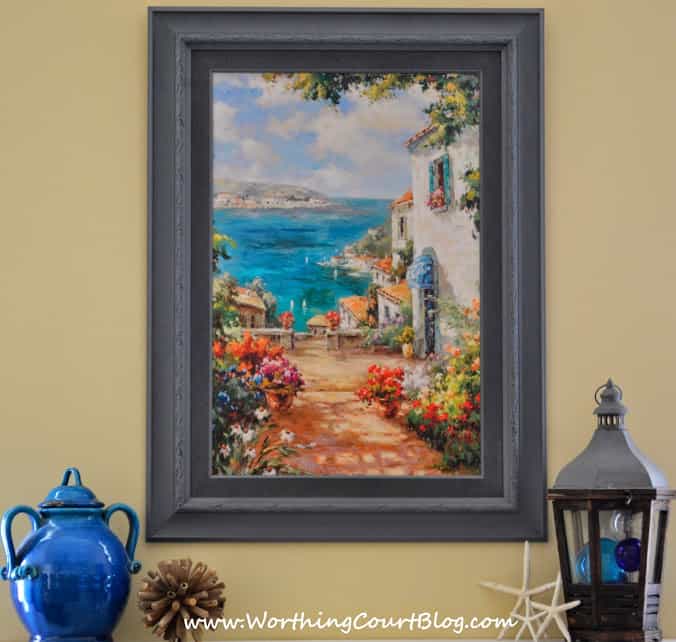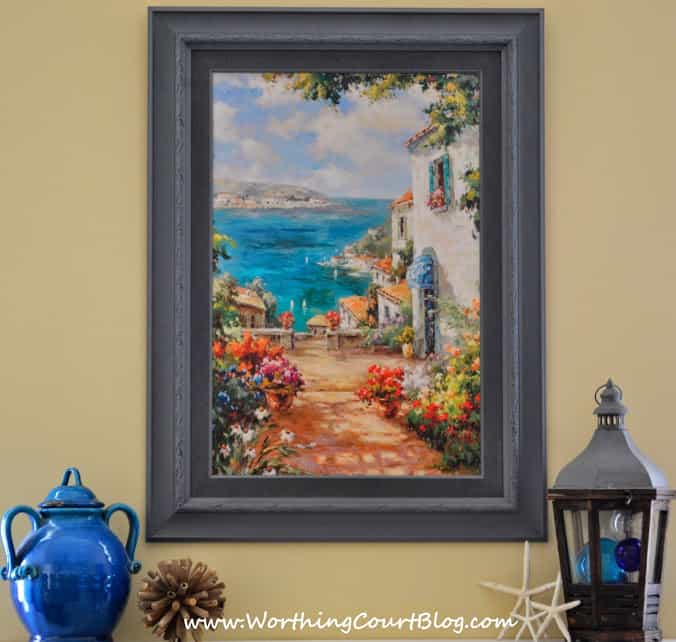 Thank you for stopping by!