Just as sneakers aren't the ideal footwear for a black-tie wedding, a mason jar isn't the best way to show off long-stemmed roses. One type of vessel, no matter how luxurious the material (hello, crystal!) or simple the shape, is unlikely to suit all types of floral arrangements. When deciding which vase best flatters a particular bouquet, you want to keep in mind material, size, and shape.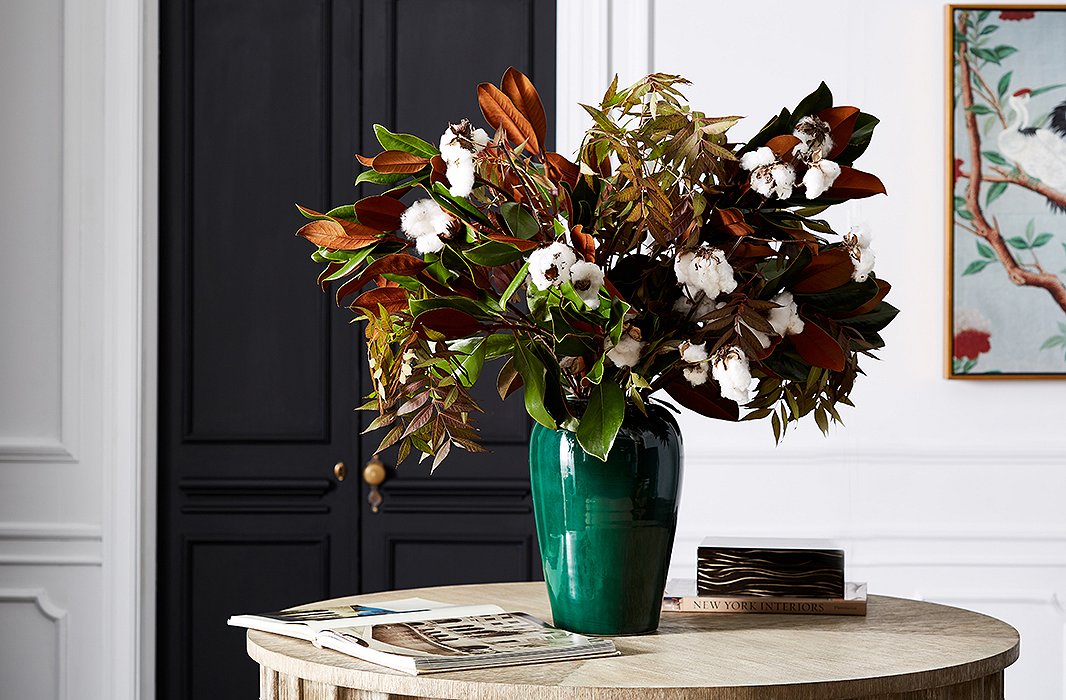 This vase's classic ginger-jar silhouette and solid green color allow the bountiful arrangement of magnolia leaves to command attention. Photo by Frank Tribble.
Material is the easiest element to focus on. You can't go wrong with clear glass… unless you don't like the look of stems or you tend to forget to change the water as often as you should (no judgment here). If that's the case, you might want to opt for colored translucent or opaque glass rather than transparent so that nobody has to stare at the less-than-pristine water. Ceramic is another option, preferably with a glazed interior. (Unglazed ceramic can absorb the water needed to keep the flowers perky as well as harbor microorganisms harmful to blooms.)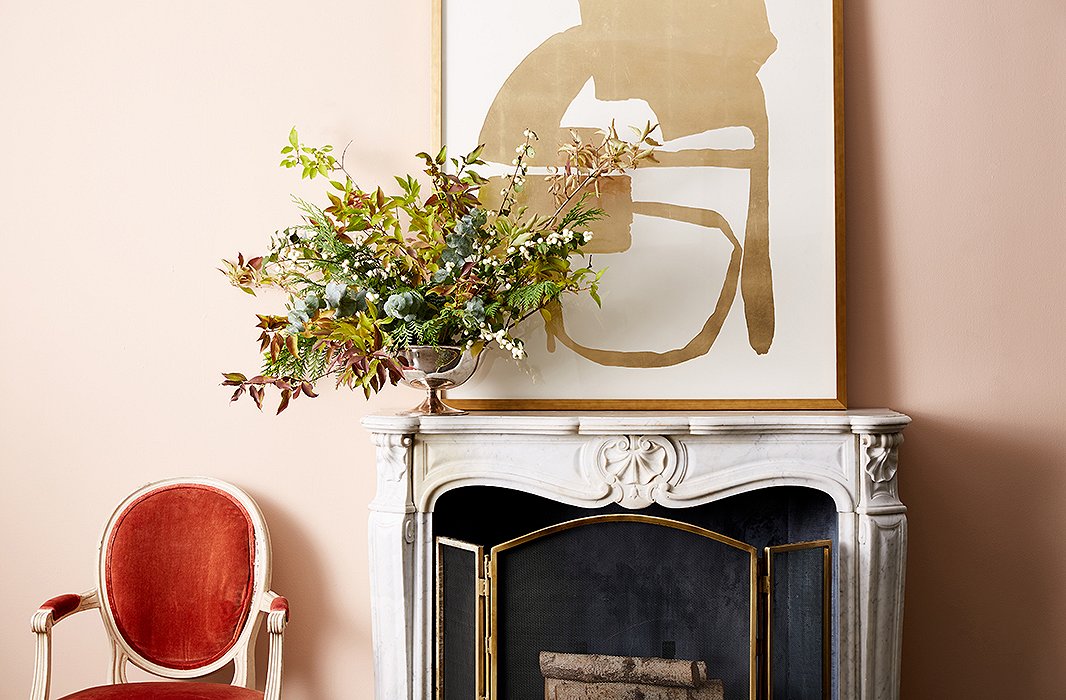 Eucalyptus adds height, cedar adds volume, and forsythia and snowberry add color and texture to this bowl vase's rule-breaking arrangement. Photo by Frank Tribble.
As for size, a rule of thumb is that the height of the arrangement, from the bottom of the stem to the top of the tallest bloom, should be about one-and-a-half to two times the height of the vase. Have a 15-inch-high bouquet? A vase anywhere from 7.5 to 10 inches high should work beautifully. 
Of course, rules are made to be broken. A frenzy of leafy and flowering branches soaring above the grounding blooms in a bowl, for instance, can provide extra drama because the proportions are unexpected.
Shape is what trips up many of us when pairing an arrangement to a vessel. A bouquet that looks lush in a cylinder vase could appear droopy and skimpy in a globe-shape one. The most important element to consider here is the size of the mouth. A narrow mouth prevents stems from splaying out, so that even just a few flowers can look like a plentiful arrangement. Conversely, if you favor bouquets with a multitude of flowers and branches, make sure they can all fit in the mouth; here's where a bowl, a cube, or a wide rectangular vase comes in handy.
One last aspect to consider: Vases with wider bases, such as hourglass shapes, are most flattering for broader arrangements. A smattering of tall hyacinths in a large-bottom, short-neck vase might look like a child's head on a sumo wrestler's body. Then again, if that look tickles your fancy, go for it!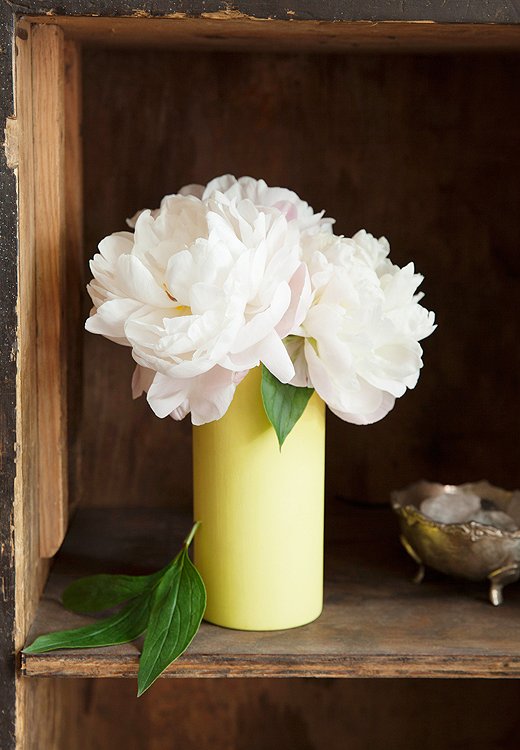 One way to prevent top-heavy flowers from drooping in a wide-neck vase is to trim their stems so that the blooms rest on the vase's rim. Photo by Lesley Unruh.
Vases for Just Your Style
Urns, gourds, and ginger jars are the ultimate vase shapes for New Traditionalists. To avoid leaning too trad, opt for a classic shape in an unexpected color or finish or a more modern shape, such as a rectangle, adorned with a classic chinoiserie motif, such as this Lotus-Leaf Vase. 
Eclectics are just as likely to use shapely pitchers, colorful serving bowls, or vintage trophies to show off their flowers as they are to opt for vases. Then again, something whimsical, such as the Happy line of vases, could change their minds.
Texture, more than shape, is what Naturalists look for in a vase. A modified globe shape carved of wood, stoneware options with parts of the exterior left unglazed, and those made of ceramic that resembles twine are sure to appeal.
Art-glass vases, particularly those with sinuous shapes and varied colors, exemplify Curator chic. (See the Canica, the Stormy Sky, and the Holland.) So do rectangular vases, particularly this crystal bud vase, and vases with silver or golden finishes or details.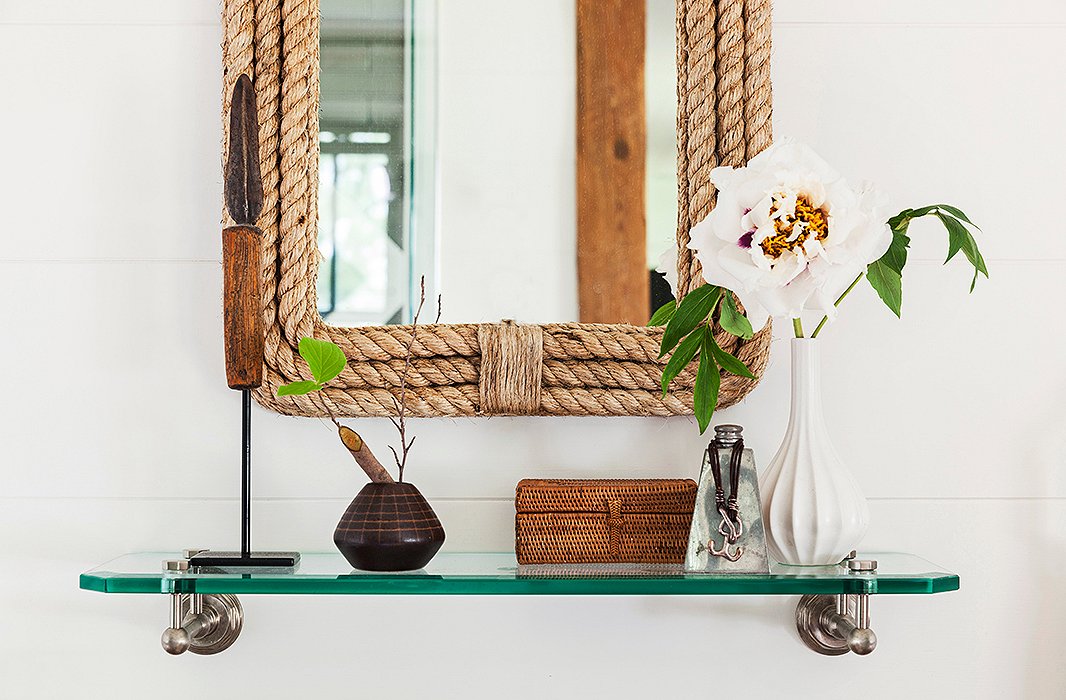 A voluminous bloom, like the peony here, balances out this bud vase's broad base. A narrower vase would probably work better for a less opulent flower. Photo by Lesley Unruh.