For Adam Hunter, this project was both an homage to his past as a Broadway performer and a commitment to his future as an interior designer. The clients—"very near and dear to my heart"—include a Broadway darling whose father is responsible for some of America's most enduring and endearing Broadway plays. Though Adam and his clients now live in California, they are also New Yorkers. This connection to East Coast sensibilities allowed Adam to playfully tie together more-traditional elements and New York glam with the laid-back attitude of their new California locale.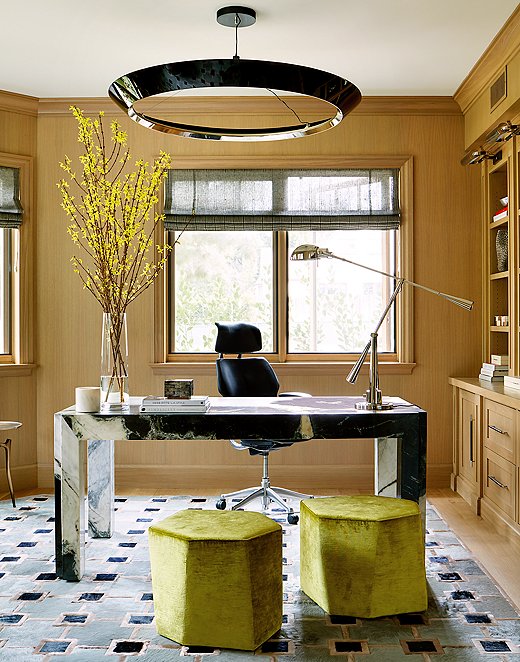 Adam wanted to play off the elegance of New York's Chrysler and Empire State Buildings in this room. He went for traditional leather chairs, a marble desk in a modern silhouette, and chrome accessories to round out the Art Deco vibe.
"They wanted to bring a little New York to Santa Monica," says Adam. That entailed involved interweaving three distinct styles: classic East Coast elegance, electrified New York buzz, and quintessential California boho. Piece by piece, Adam put the elements together like a stained-glass artist at work.
To bring in the classic East Coast style he went with cedar shake shingles on the exterior. Inside, color and texture became the stylistic high notes. Color was used to evoke the wild atmosphere of New York. Wild modern art throughout the house adds a layer of street-style cool. In the kitchen, Adam installed glass subway tiles in classic British green. The husband's office relies on aspects of Art Deco architecture to lend a little New York oomph to the space. Conversely, the wife's office leans more toward boho charm with a rattan chair and a sheepskin throw.
Adam's design ethos, while following the disparate but related style wishes of his clients, was guided by a simple principle. "I tried to reflect humor and glamour," he says. It isn't really eclectic, even with the mix of patterns and texture. "I like to say magical, or maybe unexpected."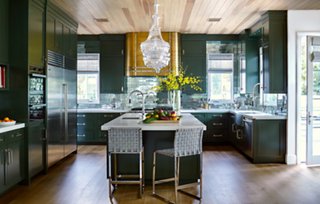 Glass subway tiles in the kitchen reflect the clients' love of New York City. The hood was a special addition by Adam. "I wanted it to look like an old metal truck," he says.
Nowhere is that unexpected element more nuanced than in the blue-and-white living room. "I wanted to play on a juxtaposition here," says Adam. With a rug designed by Diane von Furstenberg and a collection of deep, beautiful indigo tones and traditional motifs, the final moment feels collected and purposeful. It was the perfect finish to the home of perfect clients. "If you met them, they have a magic to them," he says. "A lot of love went into this project. I really want it to reflect who they are."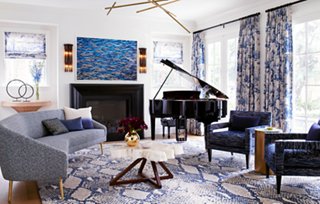 Adam wanted to do a traditional blue-and-white color scheme in the house, but he wanted to do it his way. The wild mix of pattern and color in the space plays on his love of eclecticism and vibrancy while remaining rooted in a traditional palette. The baby grand piano adds a classic note to the atmosphere.