There have been countless articles written in the past 18 months on whether you should sell your home and things to consider should you decide to. But while most of those discuss financing and negotiating, very few touch on how your home's appearance can make or break a sale. This is where staging, the practice of decorating a home expressly to make it more attractive to buyers, comes in.
"Staging is paramount," says Kirsten Jordan, a New York broker who is the first woman on Bravo's popular Million Dollar Listing New York. "There are very few people who walk into a space and say, 'I'm so glad there's no furniture here.' Buyers really cannot imagine a space and how big it is if it's sitting empty."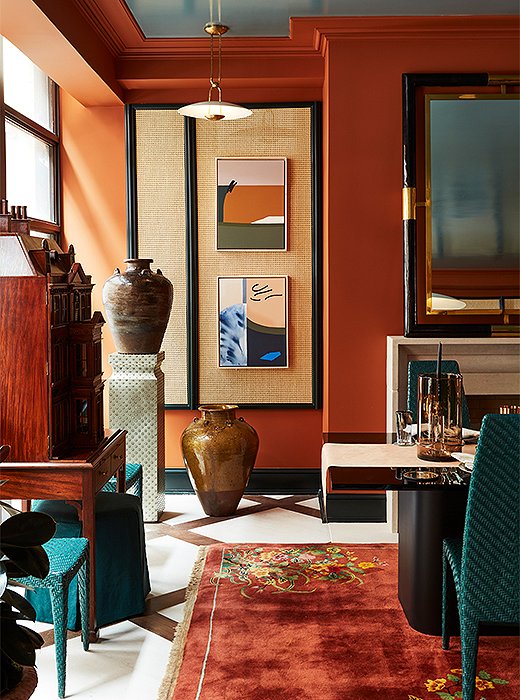 Kirsten is a big advocate of hiring professionals to stage your home. "Never go it alone," says Kirsten. "You need a designer. Guessing at what's best can be worse than having no staging at all."
That said, those of us whose homes wouldn't qualify for Million Dollar Listing might want to try to do our own staging. So we asked Kirsten and Jordan Schehr  for their best tips on everything staging. Their advice, by the way, can come in handy even if you're not putting your house on the market anytime soon.
Decorate Like a Stager
Go bright and big. Space is at a premium in today's housing marketing, and you'll want to make your home feel as large as you can. If you're looking to repaint, Jordan suggests two favorite Farrow & Ball shades: Ammonite, a soft gray-white, or Hague Blue, a richly pigmented blue that works when you want to create drama.
Distract and diminish. "If you have something you're trying to distract from, like a lack of windows or space, you need to stage accordingly to mitigate the negatives and accentuate the positives," says Kirsten. One of Jordan's preferred ways to do this is with a simple design trick. "Mirrors are the most traditional way to expand the feeling of volume in a room," he says.
Another trick: bringing in oversize art to help distract from the lack of a view or an unappealing view. "Spend on one piece you love or that helps sell the space, and use that as a touchstone to build on," Jordan says.
Layer in finishing touches. Details and bespoke finishes are what sell a home, Kirsten says: "Those are the things that make the home feel like it was done by some fabulous designer who lives there." It also can't hurt to add some fresh—or fake—flowers to the mix. Jordan suggests going with hydrangeas for fullness, tulips for simplicity, and something leafy for more casual, laid-back vibes.
Jordan's best staging tip: "Add elements that are instructive so that a potential buyer can imagine how to use a space. A well-placed book telegraphs a reading nook, a vase filled with flowers can communicate a place of rest and relaxation."